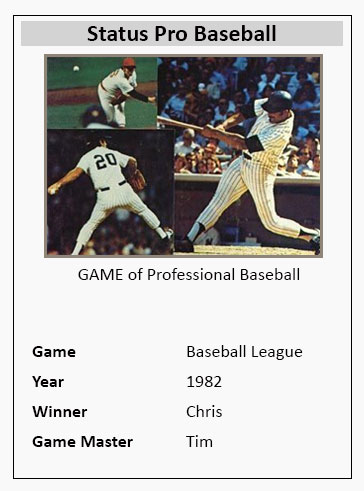 Notes:
The fourth season of the Status Pro Baseball league was run by Tim a.k.a. John "E10" Wockenfuss. The league was won by the Tasmanian Devils.
I have in my notes that we each drafted a pitching team and a batting team using the 1979 cards - the Baltimore Orioles pitching and the Cleveland Indians batting, in my case.
Below are some general recollections of the game.
Tim decided to play John Wokenfuss at a random position with an error rating of 10. I think this prompted a future rule change about players needing to have played some games at a position.
This was the year that I introduced a sound track to my games. I used this as background music to make a stadium announcements of my players entering the field. I still have the soundtrack, although it is now in the cloud rather than on cassette tape. It should be available in the gift shop.
The World Series was an exciting one with the Tuscumbia White Sox (Jeff) jumping out to a 3-1 lead just to lose the last three games (twice by just one run). Go Devils!
Tom Veryzer seems important - maybe something about an injury - not really sure about this one.