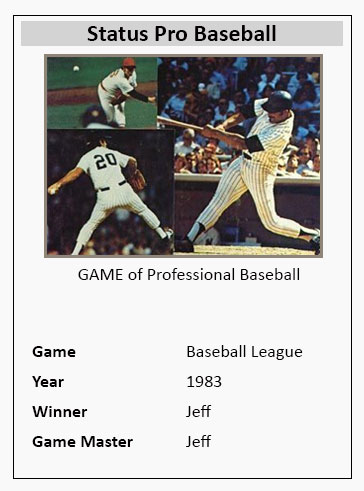 Notes:
The fifth and final season of the Status Pro Baseball league was run by Jeff. The league took place in 1983 using the 1981 cards. The league was won by the Teufeldorf Rangers of the King Zod Division.
This is the most well-documented season. I actually have ALL the World Series scoresheets! Jeff won in 7 games after falling behind 2-3 winning the last two games. The final game was 3-2. Very exciting - see below! In addition, the final standings sheet and welcome letter follow.
By this point, we had pretty much bastardized the rules beyond recognition (i.e., refusing the intentional balk). See attached rules addendums. This was another all-draft league with OBR A, SP A and HR 2 being the primary attributes of all draftees.
Below are some general recollections of the game.
The four playoff teams were: The Stevie Nicks Team (Alan), Teufeldorf Rangers (Jeff), Honilee Magic-Dragons (Chris), The Groove-Things (Neil). The other team names were: A-Team, Turds, Brown 25, and the Scum-Sucking Pea Heads. I'm not sure which belonged to the other four managers: Tim, Mike, Bill and Blake. Help!
I remember Jeff and I switching the physical version of the game we used during the World Series because my copy had multi-colored Fast Action Cards which gave clever players some idea of the PB and random numbers that were coming up (i.e., red had high PB and low random numbers; black was the opposite). It's not cheating. Really. It is just knowing your playing field.
This was also the year of Ron "Grit-Eating Freak II" Davis. Stikeouts 16-51, right?
I actually have lots of scoresheets from this year, but I didn't think putting 40 more up would be that interesting. I do have them scanned, if you are interested.