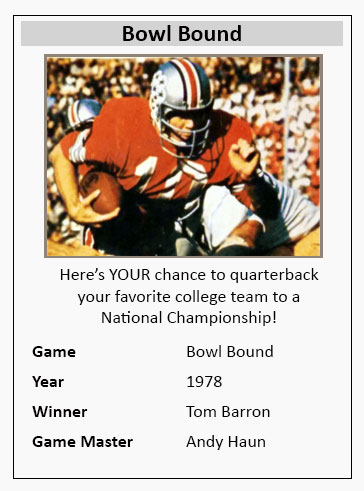 Notes:
There are no surviving documents for Bowl Bound. There is a mention of the game in my notes as having played the 1969 Texas Longhorns.
Below are some general recollections of the game.
I was invited to play in the league by Andy Haun our sophmore year of high school. I bought a new copy of the game which came out in 1978, so the dates are pretty well set in my mind.
This was my first introduction to Tom Barron who threw his dice out his bedroom window during our game. (He still won.)
The championship game was between Tom and Tim Loomis. They wanted a crowd to show up for the game, but nobody did. So, for many months, they wouldn't tell us who won the game, but it finally came out the Tom had won on the strength of the Fighting Irish running game.
We abandoned this game for the professional football version, Paydirt, returning to play a second season of Bowl Bound only after we were in college.
I have included my copy of the 1969 Texas Longhorns below. Yup, I still have the game on my bookshelves if somebody wants to kick it off.