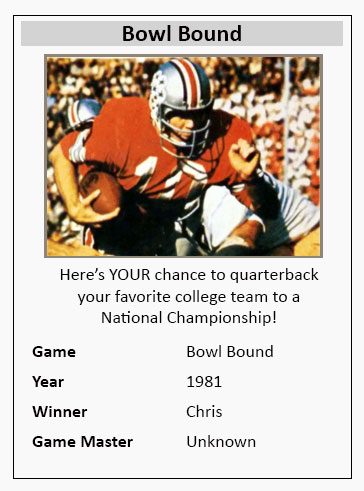 Notes:
As with the first league, there are no surviving documents for our second Bowl Bound league. In my notes, I played the 1977 Texas Longhorns and won. This was the last league of the Avalon Hill football games we ran, although we played Status Pro Baseball for a few more years.
Below are some general recollections of the game.
We used the second edition teams which were available in 1980, and I remember playing in KC before/after my freshman year at Rice. My best guess is that we played in 1981.
I remember playing Bill in the championship game where I ran the same offensive play almost exclusively - a #3 End Run. If you look at the chart, they had a Breakaway run (always 20+ yards) on a dice roll of "35" - one of the most common results. Cheesy, but effective.
Since we used the 20 teams from the second edition of Bowl Bound, I borrowed a copy of the 1977 Texas Longhorns from the league commissioner (whoever that was). I found a copy on the internet of the team chart and have included it here for grins and giggles.