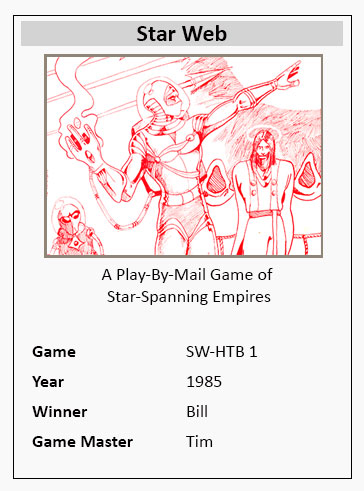 Notes:
We played four Starweb games over the years. The first game - dubbed Starweb Classic - was run by Tim when he was in England. It ran for four years, as our web master was an archaeologist. The game was won by Bill as Boy Elroy.
I have a complete set of records of the game. I have scanned all of these - the final standings, the newsletters, original copies of the rules, all of God's stuff, etc.
Below are some general recollections of the game.
With the success of Battle Plan, the PBM format was a good one for keeping in touch with high school buddies (and later college buddies).
Once the game was computerized, the turnaround times became more predictable. I wonder if Brian still has the Pascal code he wrote to run the game?
Click here for all the Newsletters.
Click here for all of God's Turnsheets.
Click here for all of God's Status Reports.
Click here for all of God's Diplomatic Messages.
Click here for all the Rules.