Tutbury and Environs
From The Madness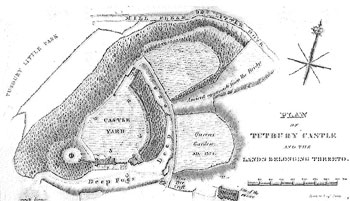 Compiled by Dr. Clive James
11 January 1892
Tutbury is a small town in the Staffordshire countryside northwest of London. The quarries near Tutbury once produced alabaster used in the carving of Nottingham Alabaster. The city contains a Norman Priory Church and Tutbury Castle – which was destroyed in 1264 after the rebellion of the 6th Earl of Derby. The castle was rebuilt and used during the 14th through 16th centuries. The Tutbury and Hatton railway station was opened on the North Staffordshire Railway in 1848.
Tutbury Herald – established 1832. James Goodly, editor; Bobby Campbell, deliveries.
The Keeper - Wearing a full suit of armour, and behaving in a manner that might best be described as authoritative, this ghostly figure has been seen stepping out in John of Gaunt's Gateway and bellowing "Get thee hence!".
Tutbury Inn – Benjamin Barrett, proprietor. A smiling bald man, very solid, ex-merchant marine who takes no guff at his inn. The outer room/bar is wood-paneled, dark and lined with windows and is always full in the evenings. Music wafts from the smoky room.
Castle Hotel on Station Street – Nora Donovan, owner. A middle-aged woman with fiery red hair, green eyes and a shrill laugh. She alternates between yelling and laughing seemingly at will. The outer room/bar is frilly with lots of lace and white walls. Each table has flowers at it. Popular with the older set for tea, it is quiet in the evenings – although the local fish is wonderful. Widow.
Tutbury Mercantile – A.G. Knot, owner. Sells mostly farming supplies and tools. Has been selling quite a bit of lumber, shovels, buckets, and rope to Miles Kidd and his workers. They have been hired to help Nathan Hardwicke fix up his dad's estate house – wherever the money came from, he doesn't know. They pay in cash. They did buy three cases dynamite – all that I had.
General Grocers – Robert March, owner. Selling enough to feed a dozen men up at the Hardwicke House, in case you're curious. Been buying dog food, too.
The Raven and the Rat – Mr. Reinhauser, sloppy German – low end proprietor of ale.
Tutbury Stone Circle - About a mile beyond the Hardwicke House, along an unused footpath stand a large ring of Neolithic stones, arranged in a familiar circle. Unlike most circles which stand on high ground, this stands at the bottom of a circular depression – ringed by trees and scrubby grass. In January 1892, the local authorities reported a gunfight at the Tutbury Stone Circle.