Vicar Lester Moore
From The Madness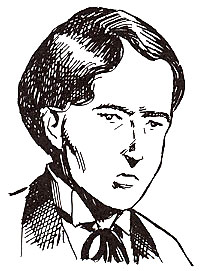 Detailed Background

Lester Moore is a young man with strong political ambitions within the church. He always dons traditional clergy attire, is tidy, and wears as much ornate jewelry as possible while being careful not to outshine his superiors. He is extremely controlled, confident, and politically cautious when speaking, but transforms into a dangerous gunslinger when battle breaks out.
Lester Moore had a normal upbringing in a medium-sized village in the countryside outside of London. His life changed when his father, Wannamaker Moore, died when Lester was only 13 years old. His father was a judge by profession and treasurer of his church, a stable man by all accounts. His favorite hobby was hunting. He took Lester on many hunting trips. From an early age Lester was confident with a gun. One Sunday morning as people showed up for church, Wannamaker was found swinging from the bell tower, a rope around his neck. To this day, Lester doesn't know if his father suddenly went insane or if he was murdered as revenge for sending a criminal to jail, or perhaps by a thief attempting to steal money from the church. No note was found. Lester was sent to Parochial school after his father's death where he thrived as a student despite the tragedy in his life. He threw himself into religious studies. While ignored and disliked by most of the other children, he ingratiated himself with the teachers and other religious leaders.
Lester had one loyal friend in school, Montgomery Turnberry. Montgomery's specialty was getting information for Lester- exam questions, dirt on other students, secrets of the clergy, etc. He has since put that skill to good use as a newspaper reporter in London. He is currently investigating a story about numerous odd events and unexplained deaths. Montgomery and Lester are still good friends.
Lester was appointed Vicar about a year ago, but he has much greater ambitions within the church. He also has a younger sister, Shomie, with whom he has not communicated in several years. She claimed to have a gift for communicating with the supernatural, an ability Lester completely dismissed as foolishness and a potential instability of the mind.