Wanton Wench Log Book - Volume 6 (June 4 - June 12)
From realm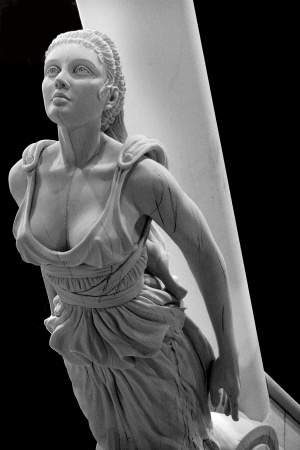 Logbook of the Wanton Wench - Volume 6 (June 4 - 12, 907 TA)
June 4, 907 TA. This island is beautiful. Listening to the wind move through the branches of the trees creates a haunting and sorrowful tune. The men have started calling this place Sorrowsong Island.
June 5, 907 TA. The stores of water and fresh meat and vegetables are replenished. The men have petitioned me to throw a celebration on the sandy beaches of the island tonight at dusk. I think that I will join them. I will dress in my finest. As I stand in front of the mirror in my cabin, I realize that I am a dashing rogue!
June 6, 907 TA. We danced naked on the beach and drank rum until the sun came up. A joyous celebration of life on the high seas. It is good to be a buccaneer and be free! Today, we will move the Wanton Wench to Sorrowsong Castle and explore the ruins - adventure!
June 7, 907 TA. I think I am going mad. I found myself alone on the Wanton Wench this morning. The crew had deserted me and lay naked and drunk on the beach of Sorrowsong Island. I found a traitor in their midst - someone who was disguised as myself. I killed the doppleganger with my cutlass, removing his head. Rousing the rest of the crew, I hustled them back on board. Something about this island is cursed. We pull anchor and leave immediately heading west towards our meeting on Hidden Skerry.
June 9, 907 TA. The crew has sobered up. A depression has settled over some of the men. They seem listless and tired. Others show signs of madness. Edginess has led to several quarrels and a knife fight. I feel I am losing control of the situation.
June 12, 907 TA. Disaster! As we approach Hidden Skerry, I have discovered two thefts. The first is dire - our invisibility pennant is missing. Normally kept in my quarters unless it is in use flying from the foremast, its magical chest is gone. It must have been stolen while we were at Sorrowsong Island. The second theft is the chest from Elias Haggelthorn from the smuggler's hold. Shit, this adventure is turning into a disaster. Hopefully, our meeting on Hidden Skerry will be fruitful. I guess we can return to Elias and ask him to scrye on the chest's location.