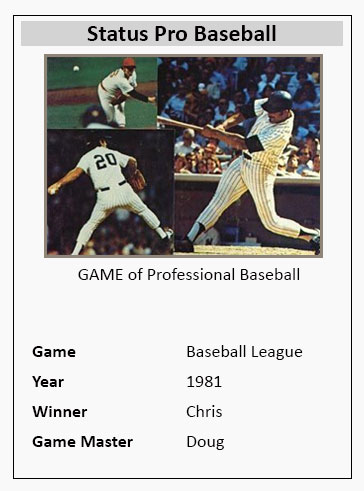 Notes:
The third season of the Status Pro Baseball league was run by Doug Scott. The league was played in 1981 using the 1980 cards. I am pretty sure this was the first all-draft league - at least the pitchers for the playoffs were all on different teams. The league was won by the Pomona Monas from the Miss Arth Division.
The final standings sheet and welcome letter follow. Alan has penciled in the World Series scores at the bottom of the first page.
Below are some general recollections of the game.
Lebo's Youth Welcomes You! That's pretty much all you have to say to sum up the third Status Pro Baseball season.
The Road to Lebo, Buckhorn Beer - yeah, this was a good league.
The final game of the World Series was a 10-inning affair giving the Pomona Monas a 3-1 series victory over the Recklinghausen Quasi-Simians
While not the most politically-correct name, the Jerusalem Muslims are very well documented. I have included Alan's carefully crafted line-ups.
I have also included the oldest surviving scoresheets from any of our leagues - New Orleans Blue Funks at Jerusalem Muslims (6/15/1981) and Lawrence Cattle-Rustlers at Jerusalem Muslims (6/17/1981).