Dwarf Poker
From realm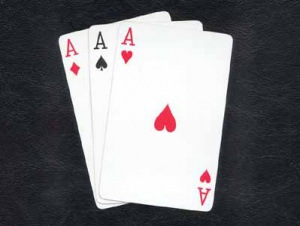 While poker has been a Matcon tradition for years, Dwarf Poker started at Matcon 23 in 2004 and is now one of the most anticipated games of the weekend.
The Prize
This game is worth 100,000 experience points in the Realm. This pool will be divided among the winners. If you lose money, no experience for you! Remember, the DM is counted in this calculation, so he is in there stealing EXPs from the characters. Nothing new there, eh? As always, there is no negative experience points allowed in our winner-only tournament.
While we don't play for gold nowadays, another tradition has emerged from MatCon 25. The order of finish in Dwarf Poker will determine the sleeping arrangements! Play well, sleep well. Play poorly, sleep on the couch! Ouch.
Dwarf Poker Results
Event
Tim
Chris
Bill
Bob
Neil
Jeff
Alan
Matcon 38
($14)
$30
($40)
($14)
($24)
$44
$18
Matcon 37
($38)
$32
$29
($41)
DNP
$22
($4)
Matcon 36
($3)
$14
$38
($38)
DNP
DNP
($11)
Matcon 35
($94)
$38
($53)
($40)
DNP
($11)
$160
Matcon 34
($40)
$8
$50
($40)
DNP
$15
$7
Matcon 33
$88
($17)
$0
($44)
DNP
($23)
($4)
Matcon 32
$42
($57)
($65)
$15
DNP
$29
$36
Matcon 31
$3
$56
$20
($43)
DNP
($1)
($35)
Matcon 30
($87)
$30
$120
$23
DNP
($77)
($9)
Matcon 29
$154
($64)
DNP
($40)
DNP
$18
($68)
Matcon 28
$35
$49
($55)
$21
DNP
($6)
($44)
Matcon 27
($35)
$76
$19
($40)
DNP
$9
($29)
Matcon 26
($7)
$3
$47
$35
DNP
($65)
($13)
Matcon 25
$8
($46)
DNP
$26
DNP
($7)
$19
Matcon 24
$0
$19
DNP
$16
($38)
($10)
$13
Matcon 23
($19)
$10
$11
($12)
$11
($7)
$6
Total
($7)
$181
$121
($216)
($51)
($70)
$42