God of Lightning
From realm
God of Lightning

| | |
| --- | --- |
| Type | Dungeon |
| Status | Explored March 883 TA |
| Location | Shadowkeep (now Dwarrowdelf) |
| Hex | 2313 |
| Campaign | Shadowkeep Campaign #8 |
| Adventure # | 72 |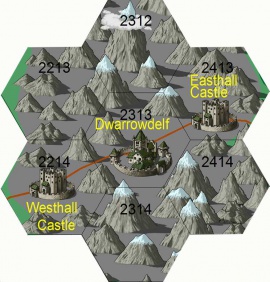 Introduction
This level of the dungeon is run by Jevan, God of Lightning. Jevan is a demon who seeks to build a mythical city of gold and gems. These precious items must be gathered in free will in order to allow Jevan to enchant the city after it's construction. He is using the people in this level of the dungeon to gather treasure from travelers which he teleports here. He allows only 13 adventurers to be teleported here at a time. The people worship him and send him gold as offerings in their boxes. In return, Jevan uses his ability to create for them the things that they need. He uses the magical scrye in his room to do this. Once a day, he teleports their desires onto the top of the temple. He also strikes down adventurers that attempt to learn the teleport command words "He Who Strikes With Spears of Light". If the party gains Jevan's room, he will drop his Sword of Lightning and jump through the mirror when the gold city is showing. This reflection will not come back after this. The party can pass through the mirror to several realms, but they will not be able to come back except via a teleport spell.
Canto Eight: God of Lightning

Thirteen pilgrims sing this song,
To flee from here they all do long.

The key lies with the altar high,
The sacred prism there does lie,
Seek it out and the name his name,
And riches follow wealth and fame.

Beware his bolts of flaming death,
Say his name with bated breath,
Seven words and gain his room,
A misspoke word will be your doom.

Two other routes can see you through,
One is clever, one you'll rue,
His people seek all treasures gold,
From thirteen pilgrims young and old.

The lightning ends, the rains do cease,
The answer in the sky does streak,
Solve this rhyme within your time,
And take the sword down into nine.

The druid dark lies in his den,
The blackened earth will be his sin.

Red (He)
Blessed Be He That Watches Over Us
May He Smile Upon You
Welcome He Who Welcomes You
He Is Goodness

Orange (Who)
He Who Watches Us, Watches Always
Who Comes To Me?
He Who Follows Him, Leads Me
Who Cares For You In Times Of Need?

Yellow (Strikes)
He Strikes Defilers From On High
The Match Strikes, The Candle Burns
He Who Strikes First Is Stricken
Ignorance Strikes Against Humanity

Green (With)
With The Master, All Is Possible
Smile With Thanksgiving
May Peace Be With You Traveler
Go With Nature's Blessing

Blue (Spears)
Beware the Spears of Outrageous Fortune
Swords and Spears Cannot Stop Time
A Hurtful Word Spears The Soul
Spears Are Weapons That Prayers Can Break

Indigo (Of)
Speak Of Things Peaceful
I Know Of What I Speak
Prayers Of The Humble Are Loudest
Of Many Failures, Triumphs

Violet (Light)
Light Be With You
His Glory Will Be Of The Light
Speak Of Things Light
Light As A Feather, My Friend

White
We All Mean To Help You
He Seeks A Path To Salvation
Seek Those Who Seek You
May All Wonders Be Yours

Black
Pay With Me, Pilgrim
The Watch Is Almost Over
Beware The Bolts of God
We Dance With Joy Each Day

Brown
Knowledge Is Power
Seek The Inner Beauty
I Am Your Only Friend
Blessed Be This When Its Over

God of Lightning: Portal 8, Level 1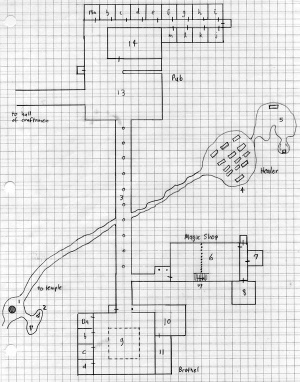 Room 1: The Hole
Upon dropping in, six huge carrion crawlers enter from the southeast. If two are killed, the others will retreat.
Room 2: Cave of the Worms
Room 3: Hallway
Room 4: Infirmary
"INDIGO GREETING: May I help you? I have many herbs and salves for sale, although healthy adventurers like you will probably not need those medicines."
The healer functions as a 18th level lawful evil cleric. He will help the party for cash. He never leaves his caves. The barmaid brings him food several times a day, taking away his refuge. Tufnell.
Room 5: Healer's Cave
The chest contains three sets of clean clothes and a several indigo blankets.
There are several magic items here: Keoghtom's Ointment, Potion of Deadly Healing (3), Potion of Moderate Healing (3).
Room 6: Curious Goods
RED GREETING: "My name is Ringgold Granger, purveyor of antiques of all values. Certainly there is something in my shop to entice gentlemen like yourselves."
Ringgold Granger will continue follow the party around the shop, trying to get them to buy anything.
If anyone casts a detect magic spell here, a loud chime will sound, and Ringgold Granger will ask them to leave. If the party flashes enough cash, he will show them some special magic items that he has. None of which are on display in the outer room
Room 7: The Inner Sanctum
This is where Ringgold Granger keeps his magical items. He will only allow one adventurer into the room at a time, and the key is on a chain around the basilisk's neck. The basilisk will always be asleep unless there is trouble. The items in the cabinet are: Bracers of Defense AC 4, Ioun Stone (purple), Chain Mail +4, 500 gold pieces.
Room 8: Ringgold Granger's Bedroom
There is nothing of interest in this room.
Room 9: The Brothel
Upon entering a slender old lady wearing a silver cloak, black linens, and a violet sash slips past the guard and approaches the party.
VIOLET GREETING: "Ohhh, its not often that we get pilgrims so young and handsome. My name is Renata. Tell me what you are looking for in a girl. I assume that you boys like girls."
Renata will produce some sort of escort for the party if desired.
Girls: Blonde (red g-string) - Provida, Brunette (orange g-string) - Vesta, Redhead (blue g-string) - Morna
The doors on the western wall are locked, and the key hangs from Renata's neck. These are private rooms which cost considerably more expensive.
Food and drink are provided, if Renata thinks that she can sell some of her services
Room 10: The Common Room
There will almost always be several girls sleeping in the beds.
Room 11: Renata's Chamber
There will always be a sleeping guard in the outer room. Renata may be in the inner room. Adventurers will never be allowed in here. There is a small bag of coins in the dresser, but otherwise there is no treasure here. 50 gold pieces, 50 platinum pieces.
Rooms 12a-d: The Private Rooms
There is nothing of interest here. Unless the party wants there to be.
Room 13: The Pilgrim's Port
YELLOW GREETING: "My name is Bowyer. I know all the circles of ballads known to man or dwarf or elf. For a little of your gold, I would happily sing one for you."
When the song is finished, Thorvald and Thorkild will happily tell the party their story.
Jackman will not cooperate with the party, but he will attempt to rob them, if they flash enough money.
GREEN GREEETING: "Sit and relax. You look hungry and thirsty. My name is Hoydan. What can I get for you?"
Room 14a: The Kitchen
ORANGE GREETING: "Welcome friends to the Pilgrim's Port. My name is Rumbluffer. May I see to your room."
Room 14b: The Private Chamber
This is where the innkeeper, his wife, and his daughter sleep. There is a Staff of Healing hidden under the bed here.
Rooms 15a - m: The Pilgrim's Rooms
There is nothing of interest here.
God of Lightning: Portal 8, Level 2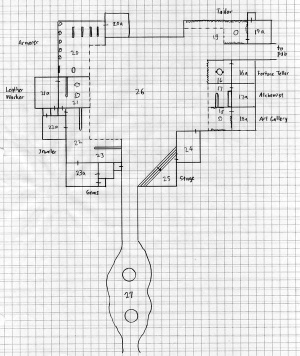 Room 16: Fortune Teller
ORANGE GREETING: "I am Adria, and I sense a soul in search of answers."
Adria will make the following prophesies: Vince - what was once Invincible (the City State of the Invincible Overlord) will be Invincible (ruled by Vince) again. Ernie - your queen who is not your wife awaits you in deep slumber. U-Gene - will become king of the mountains. Falstaff, Hylax, and Fuzzwort - the magic of the three will become as one.
Adria also has a magical tarot deck for sale. This deck can only be used by a real mystic.
Room 16a: Adria's Room
The magical tarot deck is in the dresser.
Room 17: Alchemist
GREEN GREETING: "Do you have any lead for sale? Do you want to buy any magical potions? Then go away."
Brower is very gruff and will not participate in small talk. He does have several magical potions for sale: Potion of Diminuation, Potion of Speed, Potion of Sweet Water.
Room 17a: Brower's Room
There is no treasure here.
Room 18: Art Gallery
VIOLET GREETING: "My name is Valisa, and I seek to enrich your lives with beauty. Would you like to buy my vase?"
Valisa will talk constantly about the cosmic beauty of flowers, and how they make life more peaceful.
Room 18a: Valisa's Room
There are 20 gold pieces in the bottom of the pitcher.
Room 19: Tailor
BLACK GREETING: "It will never cease to amaze me how poorly you pilgrims are dressed. Shame, shame. Come here and let me take your measurements, and I will have new clothes made for you in a day. By-the-way, my name is Nedda, who might you be?"
Nedda will try her best to sell some of her wares to the party.
Room 19a: Nedda's Room
Several of the pillows have secret pouches sewn into them. There is a total of 60 gold pieces here.
Room 20: Armorer
WHITE GREETING: "What can I do for you? My name is Griswald, and your armor looks in dire need of repair."
Griswald will be friendly but terse. Battle Axe +5, Plate Mail +2. Room 20a: Griswald's Room
The metal chest contains several bars of silver and a number of steel ingots. In a small pouch is 100 gold pieces and a vial with Oil of Etherealness in it.
Room 21: Leather Worker
YELLOW GREETING. "Do you have any work for a poor starving leatherer?"
Room 21a: Bridget's Room
There is a set of Leather +4 in the wardrobe.
Room 22: Jeweler
WHITE GREETING: "Don't mind the thief next door. Come to my shop and buy some baubles that are sure to turn a young lady's favor."
Actually, Gelder and Foyster are the best of friends.
Room 22a: Gelder's Room
There is nothing of interest here.
Room 23: Gemcutter
BLACK GREETING: "Don't mind that huckster over there. Come help your luck with some of my little statues and stones."
The gemcutter will have a number of gems and small jade statues
Room 23a: Foyster's Room
There is nothing of interest here.
Room 24: Dressing Room
Waghorne is the junior member of the troupe. He is a short wiry fellow who is always looking for adventure. Waghorne typically wears an indigo sash.
Tempany is the beautiful wife of the troupe's leader. She is dark skinned with blonde hair and bright green eyes. She always wears a green scarf.
Crowther is the handsome troupe leader. He has brown curly hair and an engaging smile of bright white teeth. He typically wears a brown sash.
Room 25: The Stage
Room 26: The Courtyard
Room 27: Pillared Room
If touched, a random event will occur. Otherwise, they are unintelligable.
Miniature rain cloud with lightning and thunder
Gust of wind
Icicles that appear in a warm room
Dozens of miniature parachutes appear in mid-air and fall to the floor
Rainbow appears in any location, glowing brightly in the darkest of rooms
Snow begins falling
God of Lightning: Portal 8, Level 3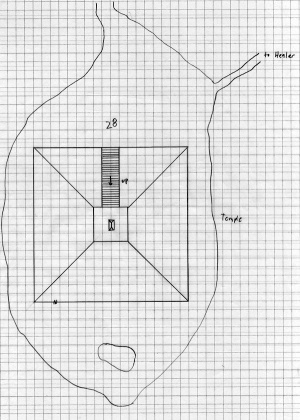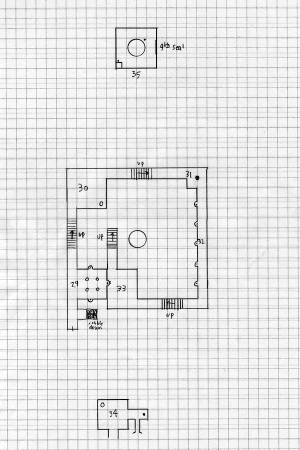 Room 28: The Temple
Careful examination shows that the dome is actually made of ice which gives off cold air but does not seem to melt.
If the party comes here and kneels on the kneeler (which alerts the occupant of Room 35) and speaks the correct name, then they will be instantly teleported into Room 35. If not, lightning bolts will start coming down doing 30d10 points of damage at the rate of 1 per round.
Also, once a day, the needs of the people will be teleported here. This will only happen when there is nobody around.
Room 29: The Temple Entrance
If entered, the pillars will turn into very large ropers that will try to grab the party. Once that is accomplished, then the mummies will animate and attempt to strike the held member. A saving throw will reduce the aging effect of the hit from 4-40 years to 1-10 years. Note that this effect is permanent and considered a poison saving throw.
A secret door lies behind the eastern niche which will lead to a crawl way going up.
There is no treasure here.
Room 30: Burial Chamber of the Mad King
Close inspection of the statue shows an inscription that says: All my wealth is yours to take. Look at my heart, and pull the stake.
A very close inspection reveals a pencil-diameter shaft of wood stuck into the heart of the statue. Age has made the wood blend into the stone.
If the party pulls out the stick, the ceiling of the room caves in doing 2-200 points of damage to anyone in the room. As the ceiling is falling, the party will hear a booming voice finish the verse: "Wealth, I'm told can't go to the grave. So, join me fool and be death's slave."
There is no treasure here.
Room 31: Burial Chamber of the Mad King's Dog
If the party touches the bell, it will emit a deafening ring that will make spellcasting impossible. Immediately afterwards phantom hounds will start pouring from the wall. These beasts fight like hell hounds, and they cannot be harmed by weapons (which pass right through them). The only way to get the phantom hounds to stop is to destroy the bell, thus ruining its value.
There is no treasure here.
Room 32: Hallway of Spears
When this figure is passed, a ballista shoots from the opposite wall doing 5d10 points of damage.
When this figure is passed, a block of stone from the ceiling drops on the party doing 6d10 points of damage.
When this figure is passed, a 30' pit opens up with poison spikes doing 3d10 and a saving throw versus death.
When this figure is passed, a ballista shoots from the southern end of the hallway doing 8d10 points of damage.
When this figure is passed, it reaches out and attacks as per the mummies in Room 29.
There is no treasure here.
Room 33: Lower Landing
Strange symbol: water drip with a red cross. If the yellow powder comes into contact with water, it will do three things: burst into flame, create billowing clouds of chlorine gas, and explode. This will cause 10d10 of explosion damage, 10d10 of fire damage, and a saving throw against poison. In addition, character's eyes water and they begin gagging (making spellcasting impossible). This is a likely result of melting the column of ice.
Room 34: Upper Landing
Two halves, torn apart.
Two sins, one heart.

One good, one bad.
One angry, one sad.

If the two statues are pushed together, they will join together to form one fighter named Hidden. Hidden will help the party, claim to have no memory, suffer from an unknown sadness, and will turn into a monster when least expected.
Room 35: The Ninth Seal
If the party has melted the dome of ice, there will be a stone shaft leading down to Room 34.
When the party enters, all metal will be attracted to the loadstone mirror. This will keep any fighters at bay.
Behind the mirror is the next piece of the poem.
If the party defeat the God, the holder of the sword will see the following scenes in the mirror:
A huge room gilded with gold and gems. The god will jump through to the room gilded with gold and gems and break the mirror on the other side (thus making that reflection not reappear). If the party follows, they will be attacked by winged demons until they flee.
A waterfall tumbling into a deep crevise. The waterfall in the path to the ninth level.
A flaming pit of lava and fire. The flaming pit of lava and fire is for Sirfexx, may he rest in peace.
Monsters

Carrion Crawlers (6)
Tufnell (healer)
Ringgold Granger (curious goods)
Basilisk
Renata (brothel)
Guards (2)
Girls (3)
Bowyer (bard)
Thorvald and Thorkild (dwarves)
Jackman (half-orc assassin)
Rumbluffer (tavern keeper)
Hoydan (wench)
Natalia (wife)
Adria (fortune teller)
Brower (alchemist)
Valisa (potter)
Nedda (tailor)
Griswald (armorer)
Bridget (leather worker)
Mummies (2)
Hidden (Mr. Hyde)


Treasure

Keoghtom's Ointment
Potion of Deadly Healing (3)
Potion of Moderate Healing (3)
Bracers of Defense AC 4
Ioun Stone (purple)
Chain Mail +4
500 gold pieces
50 gold pieces
50 platinum pieces
Staff of Healing
Tarot Deck
Potion of Diminuation
Potion of Speed
Potion of Sweet Water
20 gold pieces
60 gold pieces
Battle Axe +5
Plate Mail +2
6 bars of silver
20 steel ingots
100 gold pieces
Oil of Etherealness
Leather +4
Dog's Jeweled Bell
Sword of Lightning