Grixana's Revenge at Havelock's Keep
From realm
Grixana's Revenge

| | |
| --- | --- |
| Type | Dungeon |
| Status | Explored November 907 TA |
| Location | Havelock's Keep |
| Hex | 3110 |
| Campaign | The Siren's Song |
| Adventure # | 132 |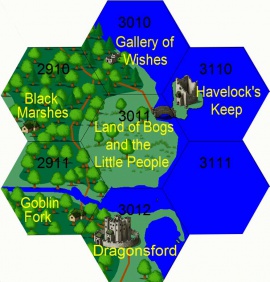 Introduction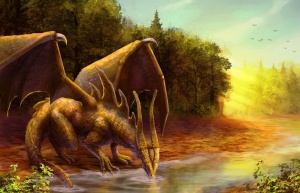 Grixana is currently trying to find the Wanton Wench. Jadeling will be seen at the most inopportune moment.
Grixana has made camp at Havelock's Keep - which is now an orphanage. This location was the site of an adventure 28 years ago.
Trell Silverbark - Human Ranger (7)
David Sinclair - Human Barbarian (6)
Bug - Half-Orc Assassin (8) - supposed to be in the Dreadwood.
Not around:
Finn McDuff - Hobbit Thief (5) in Haggelthorn
Spectre - Elf Magic User (9) in Ravenswood
Quorloc - dead
Idaho Jones - dead
Viper - Gnome MU (8) in land of Bogs and the Little People
Asswipe - Human Cleric (8) in Teufeldorf
Bug's Story
Havelock's Keep Environs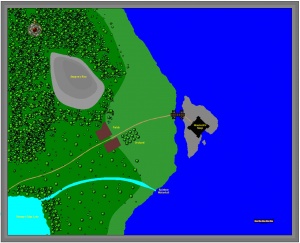 Havelock's Keep - Main Level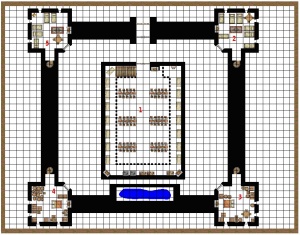 Room 1: The Longhouse
OUTSIDE
DC 20: The structure is in the style of the long houses from the Isle of Skye.
INSIDE
Room 2: Officer's Quarters
The officers have been set off by Grixana to find word of the Wanton Wench or her son. She has warned that if anyone approaches the island without her permission, she will burn down the longhouse and kill the occupants.
A spiral staircase leads up. The passage down the stairs has been filled with rubble long ago.
Room 3: David Sinclair's Quarters
Room 4: Trell Silverbark's Quarters
DC 25: The stone chessboard is actually built into the wall. The desk has been cleverly constructed around it. A checkered stone pattern on the wall behind the chess board mirrors the one on the table surface.
The chessboard is only 5x5, and there are 4 bishops and 4 kings sitting next to it.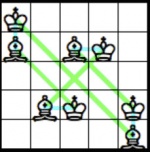 When solved, the top will fold down and reveal a box hidden in the wall. The box is long and narrow and carved of ivory.
Wand of Teleport - 50 charges.
Room 5: Officer's Quarters
NOTE: The rubble down can be move here to access the lower level.
Havelock's Keep - Upper Level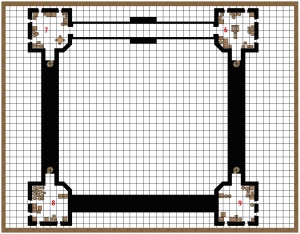 Rooms 6-9: Storerooms
Havelock's Keep - Lower Level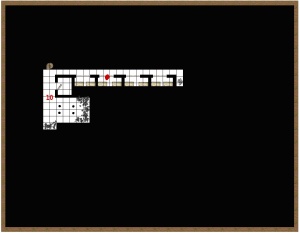 Room 10: Old Dungeon
NOTE: The red mark is where a hole from the longhouse drops. The grown-ups don't know about this, but the kids do. They call it the "Cold Hole" and drop food down the area to feed the "monster who lives under the stairs".
This is the lair of the "monster", a black ooze emanates a deathly cold.
Dark Matter Entropic Ooze