Difference between revisions of "Sven"
From realm
 

(Pushed from realm.)

 

Line 1:
Line 1:
 

[[File:sven.jpg|thumb|right|300px|Sven]]

 

[[File:sven.jpg|thumb|right|300px|Sven]]

 
+
 
+
 
+
---
Latest revision as of 16:21, 30 June 2020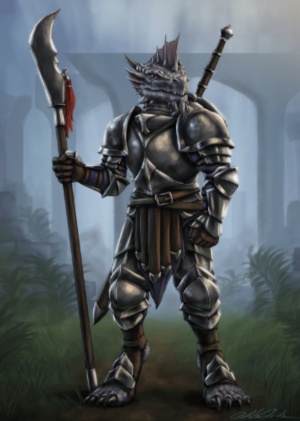 Sven was born into the Dragonborn clan Kallendor in the Dragonbreath Mountains near the Forbidden Lands. Clan Kallendor has been in an ongoing war with the neighboring Calinshold Dwarves for centuries and the fight has taken a heavy toll on the clan. The Lost Dwarves routinely capture Dragonborn and either enslave them to work in their local forges or they sell them on the slave trade market. The Dragonborn's prodigious strength and stamina make them a valuable commodity as slaves and the Dwarves can make a handsome profit on the sale of Dragonborn. This is how Sven came to be sold into the servitude of Baron Wickham during an auction at Freeport.
For reasons no one quite knows, the Baron has a keen interest in the learning the mysteries of the dream world and the potential power it can bring. He saw something in Sven that showed promise in this area. He has released Sven from his servitude in order to allow him to pursue his innate dream world abilities. The Baron hopes Sven will be able to further the Baron's knowledge of the dream world and has allowed him to travel to Teufeldorf to study the subject and further his nascent skills.