Tegel Village
From realm
Tegel Village

| | |
| --- | --- |
| Type | Dungeon |
| Status | Explored October 889 TA |
| Location | Tegel Village |
| Hex | 7208 |
| Campaign | Return to Tegel Manor |
| Adventure # | 102 |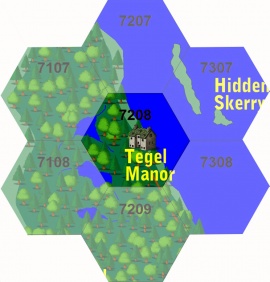 History of Tegel Village
Tegel Village lies in a small valley in the northern expanse of the Dreadwood forest. Founded as a central market for the farms in the area back in the days of Rumpole Rump, Tegel Village is centered in the lush farmlands in the valley. The soil of this small vale contains a certain mixture of minerals and nutrients that is perfect for growing winterweed, the primary export of the village. Small farms planted in the rockier soil to the east and the drier soils to the west produced poorer quality crops and were abandoned years ago. Frequent orc raids have also kept the farms close to town. The town currently has about 200 residents including 80 adults and 120 children.
A single merchant road approaches Tegel Village from Dragonsford far to the south. Branches south of town lead to the Tegel Mines and the Monastery of St. Cadel. Crossing the Boiling Brook at Grinder's Mill, the path that leads into Tegel Village is little more than a well-worn path. Two roads lead out of Tegel Village. To the north, the path moves into the Dreadwood, although the bridge at Darnby Creek has been washed out for years. The villagers, afraid of the spirits from Eventide, have left it this way. Heading out of the village to the east, the road moves up Spirit Hill and past the White Temple. The left fork of the road leads to Fishbone Hamlet and the Dim Lighthouse. The right fork leads past the Cliff House and finally to Tegel Manor. The right fork is almost never used these days.
The weather in Tegel Village is defined by large storms that buffet the town. Otherwise, the weather is temperate for this far north with the cold of the winter and heat of the summer regulated by the nearby sea.
In October and November 888 TA, evil swept this area - killing Rumpole Rump, the thirteenth Lord of Tegel Manor. The adventures are chronicled in the Registry by Ronic Rump, now the fourteenth Lord of Tegel Manor, and the sole surviving heir. An Adventure Script also survived.
Map of Tegel Village
Index of Establishments & Buildings and Shopkeepers & Notable Natives
| | | | |
| --- | --- | --- | --- |
| Map | Establishment Name | Type | Purveyor/Owner |
| 1 | Greenleaf Farm | Farm | Anton Greenleaf |
| 2 | Blackbark's Cottage | Home - Retired Ranger | Blackbark |
| 3 | Plowman Place | Farm | Peter Plowman |
| 4 | Hayseed Farm | Farm | Wark Hayseed |
| 5 | The Rusty Hook | Fish Monger | Esmond Stillwater |
| 6 | The Silver Quiver | Fletcher & Bowyer | Ellindell Farshot, Barlow Bristlebow |
| 7 | Cobblestones | Stonecutter | Rockhill (ogre), Stillingworth Granitefist |
| 8 | The Mad Cow | Leatherworker | Shadworth |
| 9 | The Cellar | Vintner | Winton Sweetvines |
| 10 | The Hobbit's Foot | Cobbler | Brimby Bigfoot (hobbit) |
| 11 | Chopping Block | Butcher | Fawn Axeworthy (dwarf) |
| 12 | Good Bread | Baker | Aron Goodbread |
| 13 | The Bar and Bolt | Locksmith | Hashsome |
| 14 | Manor Malt | Brewer | Phineous Foambringer |
| 15 | The Awl and Man | Woodworker | Rufus Awlman |
| 16 | Sterndale Home | Home - Grocer | (see grocer) |
| 17 | Blackguard & Flamebeard | Blacksmith & Armorer | Gustav Blackguard, Rold Flamebeard |
| 18 | The Silver Mitre | Carpenter | Halbert Cutsaw |
| 19 | Guard Hut | Guards | (see militia) |
| 20 | Thistle and Thatch | Thatcher | Thaddius Billingsworth |
| 21 | Tegel Traders | Grocer | Salmon Sterndale |
| 22 | Militia Barracks | Barracks | (see militia) |
| 23 | Loo | Loo | none |
| 24 | Worthy Weed | Tobacconist | Willa Wildroot |
| 25 | Inn of the Gruesome Goblin | Inn | Grinling Fulsome |
| 26 | Twill and Tartan | Weaver | Watt Wefthread |
| 27 | Sweetvines Home | Home - Vintner | (see vintner) |
| 28 | The Copper Churn | Dairy | Girthsome Glenda |
| 29 | Tomb of Redurn Rump | Tomb | (see dungeon description) |
| 30 | Plump Home | Home – Pubkeeper | (see pub) |
| 31 | Golden Goose | Alchemist | Woodfin Whitelocks |
| 32 | Loo | Loo | none |
| 33 | The Bark and Byte | Pub | Cretin Nodcock |
| 34 | The Guild | Playhouse | Zafira Waghorne |
| 35 | Guard Hut | Guards | (see militia) |
| 36 | Ghoulslayer Place | Farm | Gholson Ghoulslayer |
| 37 | Whetstone and Sons | Weaponmaker | Samuel Whetstone |
| 38 | The Glass and Goblet | Glassblower | Henry Glassford |
| 39 | House of Usher | Home – Retired Merchant | Usher |
| 40 | Zebulon's Home | Home - Retired Wizard | Zebulon |
| 41 | Beldame Estate | Home - Councilwoman | Beatrice Beldame |
| 42 | Loo | Loo | none |
| 43 | Whetstone Home | Home - Weaponsmith | (see weaponsmith) |
| 44 | Crystal Portal | Fortune Teller | Jensine Faintheart |
| 45 | Natty's Shack | Home - Gambler | Natty |
| 46 | Sam's Hut | Home - Drunk | Sullen Sam |
| 47 | Dashing Clothiers | Tailor | Dirk Dashing |
| 48 | Macallan's House | Home – Macallan | Macallan Spadehigh |
| 49 | Hedda's Herbs | Herbalist | Hedda |
| 50 | Granger Farm | Farm | Congal Granger |
| 51 | Guard Hut | Guards | (see militia) |
| 52 | Roark's Home | Home – Barfly | Roark the Resurrector |
| 53 | Bidwell's Home | Home – Retired Captain | Bidwell the Brave |
| 54 | White Horsed Sleigh Inn | Inn | Hasnover |
| 55 | Noble Nets | Nets and Ropes | Lyndon Longrope |
| 56 | Maggot's Dump | Beggar | Maggot |
| 57 | Burning the Midnight Oil | Oil Maker | Olga Oldhen |
| 58 | Loo | Loo | none |
| 59 | The Hero and the Hound | Pub | Philo Plump |
| 60 | Orphanage of the Hearth | Orphanage | Deacon Linus Holysword |
| 61 | Singing Skiffs | Boatwright | Bilgewater |
| 62 | Granitefist Home | Home - Stonecutter | (see stonecutter) |
| 63 | Rectory | Rectory | (see church) |
| 64 | Guard Hut | Guards | (see militia) |
| 65 | Chapel of the Hearth | Chapel | Father Simon Goodweather |
| 66 | Loo | Loo | none |
| 67 | The Basket and Bushel | Baskets | Brion Bushell |
| 68 | Stilingfleet Mansion | Retired Magistrate | Stilingfleet the Shrewd |
| 69 | Village Hall | Village Hall | Hob Darkwing |
| 70 | Jail | Jail | none |
| 71 | Hillman Exchange | Mercantile | Doak Hillman |
| 72 | Dreadwood Stoneware | Potter | Peregrine Potkins |
| 73 | Silverhand & Cutbeard | Jeweler, Gem, Goldsmith | Jonathan Silverhand, Jacob Cutbeard |
| 74 | Gnobbin – Tinkerer | Tinker | Gnobbin Goldtooth |
| 75 | Graybeard's Farm | Farm | Whitwell Graybeard |
| 76 | Empty | Empty Hut | (see Legend of Barrow King) |
| 77 | Empty | Empty Hut | (see Legend of Barrow King) |
| 78 | Empty | Empty Hut | (see Legend of Barrow King) |
| | Grinder's Mill | Miller | Burwright Grind |
| | White Temple | Graveyard | Crazy Cogsworth |
| | Dim Lighthouse | Lighthouse | Dan Dim |
| | Southbank Farm | Farm | Rufus Gladhand |
Militia
Captain August Reem
Lieutenant Blount Whalesome
Guardsman Evarts Sharpsword
Guardsman Hogg Keeneyes
Guardsman Hobart Hornblower
Guardswoman Shamira
The Guild (actors)
Zafira Waghorne
Johannas Spelman
Zennia
Piers Pyper
Cecil Canter
Marigold Bigfoot
Village Council
Hob Darkwing – mayor
Beatrice Beldame
Doak Hillman
August Reem
Travelers
Thistledown
Rukhs
Ratchet
Brownstone
Description of Establishments & Buildings
Awl and Man (woodworker) – The front windows of this shop are hung with beautiful chairs while resting on finely carved tables are small wooden boxes, trinkets and toys. The rest of the shop is utilitarian for the master woodworker. A large work table in the center of the room typically has some project in mid-completion. The back rooms of the building are the family home, usually filled with the sweet smell of baking pies.
Bar and Bolt (locksmith) – This small two-story stone building is well fortified with locking iron shutters on the windows and thick wooden front and back doors, both guarded with fine magical locks. The front room of the bar and bolt is a small sitting room where Hashsome meets with customers to design and build locks. While he has a few mundane supplies for sale, most of his work is custom made. A small workshop can be glimpsed in the back room. Hashsome's living quarters are upstairs.
Bark and Byte (pub) – A favorite of Tegel's rough and tumble crowd of drinkers, the Bark and Byte is loud and raucous almost every night of the week. The pub is a single room completely packed with small, dimly-lit stalls and worn long tables and benches. The low ceiling serves the dwarven owner, Cretin, just fine. A set of stone steps behind the bar lead to a storage cellar. The main decorative feature of the pub is a huge slab of wood with what look like gargantuan teeth marks in it. Cretin will tell you that this is the hull of dwarven ship attacked by Rump's Hump in the harbor.
Basket and Bushel (baskets) – The tiny shop which occupies the front of the small, wooden structure consist mainly of a throne-like chair on a raised platform surrounded by piles of thin reed-like plants common to the Derfingel Marsh. Brion is typically dozing in the chair, although he generally snaps to action, instantly becoming busy when visitors are in the shop. A very small sleeping area in the back is Brion's private chamber.
Beldame Estate (home) – The Beldame Estate is a beautiful building built almost a hundred years ago. With a dozen large rooms, it has kept an old-time charm. It's front sitting room, the furthest guests are allowed into the home, is ornate and filled with expensive trinkets, dark wood and overstuffed couches. A small kitchen in the back is usually filled with children, eating, laughing (at least when Beatrice is out) and planning mischief. Little is known of the other rooms in the home.
Bidwell's Home (home) – The yard and garden around this home are neat. The house is a modest two-story affair with a newly thatched roof. Bidwell's daily exercises in his garden are a draw for the Tegel women. The upper floors of his home are mostly empty, and he has considered renting the rooms out to boarder or allowing the church to use it to help the poor. Bidwell still goes to bed early and rises with the sun, and can be found sitting on his porch during the day.
Blackbark's Cottage (retired ranger) – Blackbark's cottage is a small bungalow made of the same stone as Tegel Manor, although it is probably only 150 years old. Surrounded by berry bushes and overgrown foliage, the cottage is solid, although not well maintained. Blackbark keeps a small garden in back.
Blackguard & Flamebeard (blacksmith and armorer) – The large stone building at the north end of town rises three stories and is one of the most prominent features of Tegel Village. It's ornate stonework belay its past as a fine home for a rich merchant, although its current residents are simple craftsmen. The ground floor is divided into two shop areas sharing a single forge and a vast collection of blacksmithing tools. The second floor has a nice shop that displays the wares of the trade which include several sets of very nice magical armor. The children of Flamebeard and Blackguard run throughout the second and third floors. It is rumored that the third floor is haunted by the spirit of Ellie, a young woman who jumped to her death a hundred years ago after being jilted by her Rump lover.
Burning the Midnight Oil (oil maker) – This small shop has a counter in a tiny front room. The counter is piled with jugs of oil made by Olga. An honesty policy allows customers to come in, leave the appropriate coin The shop has a small chest on the far side of the counter which contains Olga's magical oils. The back room is both a workshop and Olga's residence where she lives with her two small children. The family pet, a trained jaguar named Emma, keeps intruders from coming in the house.
Cellar (vintner) – Made of stone, the Cellar is a neat shop, although a bit on the small side. Two large overstuffed chairs sit in the front window, a table with several crystal wine glasses perched between them. Here, Winton Sweetvines and his customers can sit and discuss the finer points of his wine collection which is arranged on shelves on all four walls. A glass case at the back hold rare and exotic wines from around the Realm. Winton always makes a big production of pulling the gold key from his pocket to unlock this case.
Chapel of the Hearth(chapel) – Built in the style of the modern basilica, this chapel is made of stone and is three stories high, the top of the steeple being the tallest structure in Tegel Village. The outer doors lead into a wide narthex with a set of bronze inner doors leading to a nave with two aisles flanking either side. A soaring ceiling and large stained glass windows always bring a gasp to newcomers. The rear of the church has a simple altar in the central bema. Two transepts have memorials in them, one to the miners lost in the Tegel Mines over the years. The other to the clerics who have served the Village since its foundation. Rumors hold that the earliest priests were buried under this memorial. A simple apse has the golden symbol of the rising sun emblazoned on the back wall. The chapel is always open except during orc raids, when the front doors are barred and the village elderly and children hide.
Chopping Block (butcher) – Two stone building make up the Tegel Village butcher's shop. The back building is used for smoking and curing meats, a real treat for the villagers, as their old butcher could barely cut up a cow. The wonderful aroma of hickory wood can almost always be found here. The main shop is a stone house. The entire upper floor is Fawn's home, although she lives alone. The ground floor is the shop, a tidy affair with a large butcher's table in the center of the room, a large window in the front of the shop displays various game hanging from hooks, and a magical case at the back of the room that is always cold. In this, Fawn keeps a variety of ground meat, organs and small birds. It is said that the case contains the heart of white dragon in a special compartment underneath.
Cobblestones (stonecutter) – The stonemason's shop is well organized but always dusty from the work that is done. Large piles of stone can be found around the house. A rear entrance provides sleeping accommodations for Rockhill the ogre, although these are little more than a mat and some straw. The front of the shop has the saws, chisels and tools of the trade neatly arranged. The shop is typically very noisy.
Copper Churn (dairy) – The smell and tidiness of the Tegel dairy has improved under the watchful eye of Girthsome Glenda. Glenda makes the rounds each morning collecting milk from the local farmers while also milking her own cows. She is always up before daybreak, and the lights of the dairy burn brightly without fail. Late in the morning, Glenda makes her second round of visits, dropping off milk, cheese, butter and cream to the locals, stopping long enough to gossip with her favorites. The dairy smells of sour milk and cow manure, but the interior is clean with large gleaming copper pots. A back room is Glenda's home, and a deep cellar is used to store the dairy products during the heat of the Summer.
Crystal Portal (fortune teller) – This small cottage is overgrown with flowers, weeds and shrubs that have been left unchecked for years. The roof sags and is in need of dire repair. Jensine Faintheart's viewing room is a small sitting area with a tiny table and two well-worn armchairs. A curtain separates this room from the cluttered one room abode behind. The smell of incense is always strong here, as well as the frequent aroma of one of Awlman's fresh fruit pies.
Dashing Clothiers (tailor) – A manikin of a dashing, young man is almost always in front of the neatly painted eaves of this small stone shop. Sometimes, Dirk poses as the manikin attempting to frighten passer-bys. The front-room of the shop is incredibly neat, as if little work is done there. An upended washtub gives a place for women to stand while having alterations done. Several back rooms are used by Dirk as living quarters.
Dreadwood Stoneware (potter) – This long stone building has served a variety of purposes since the founding of Tegel Village. Most recently, it is the shop of one of Tegel's few true artisans, Peregrine Potkins. The front of the building is a large, well organized shop. Wooden racks hold dozens of winterweed pots in various stages of completion. Several wooden crates hold specialty orders for customers to the south. A large potter's wheel and kiln are toward the back of the shop. The back of the store and the upper floors are Peregrine's personal chambers.
Empty (various) – A small number of empty shacks surround Tegel Village. Most of these are simple four room farm houses with wooden and lathe walls and thatched roofs. Most are in various stages of disrepair, as the harsh environment and strong storms around require almost constant maintenance to buildings.
Ghoulslayer Place (farm) – With the recent disappearances of the Swiftfoot family, Gholson has taken over a second large field for farming. This has caused the maintenance of his small home to suffer. In serious need of a new roof, the drooping thatch looks like it will cave in at any moment. A typical small wooden farmhouse, the Ghoulslayer Place is unremarkable.
Glass and Goblet (glassblower) – The distinguished form of Henry Glassford can be seen almost everyday working at his trade in the front window of his shop. Always quick with a smile and a nod, the shop is frequently visited by the eligible older ladies in town. A tasteful display of beautiful blown glass items is displayed in a cabinet at the front of the shop. Vials, bottles and more utilitarian items can be found on the back shelves of the room. The rest of the house are Henry's private quarters.
Golden Goose (alchemist) – Previously the site of a cloth maker's shop, the Golden Goose is lined with old scraps of fabric pinned to the wall. The tables have been arranged in a square around the room's exterior and are now filled with bottles, piping, small burning braziers and other random laboratory equipment. A chest in the corner of the room is locked and glows with a magical light. Some sleeping blankets are piled in another corner. In the front window, a golden egg is perched on top of a deep red velvet cushion.
Good Bread (baker) – This shop consists of a large oven built into one wall which fills the morning air with the smells of fresh baked goods. Baskets are arranged on a table in the center of the room, and these are well-shopped by mid-day. A small basket just outside the door of the shop contains stale bread for the town's poor. A curtain separates off Aron's private chambers in the back.
Gnobbin – Tinkerer (tinker) – Gnobbin's shop also serves as the main room for the Goldtooth family with the crazy gnome's experiments spread all over the kitchen table. Gnobbin is rarely at home, although it is pandemonium when he is as he is always setting something on fire or losing control of a mechanical toy. A tiny kitchen and several tiny bedrooms of gnome proportions complete this strange home.
Granger Farm (farm) – The rambling Granger farmhouse has been modified to deal with the prodigious numbers of children in the family. The house is organized around a single and very busy kitchen. Somewhat run-down, the recent addition of a second field to the family's holdings should provide funds for much needed repairs. An old root cellar is the secret clubhouse for the Granger kids.
Granitefist Home (home) – This comfortable two story stone home is typical of newer designs around Tegel Village. A front entrance leads to a nice parlor which Vi Granitefist has managed to furnish with nice, contemporary furniture. The rear entrance leads to the kitchen, always a favorite gathering place. A porch wraps around the entire home. The upper floors are the Granitefist's private rooms.
Graybeard's Farm (home) – This farm house is undergoing some major renovations as it is currently getting a new thatched roof. Whit and Ami are planning on adding a new room to the house for their baby as well. The Graybeard's have recently begun farming an additional field left empty by the departure of the Swiftfoot family. A well-tended garden and several nice nut trees are near the home.
Greenleaf Farm (farm) – Typical of many of the farm houses in the region, the Greenleaf farmhouse is several generations old, although Anton and his grandsons have let the place slide a bit. The farmhouse is a simple two-story wooden affair. The Greenleaf boys farm the largest field in Tegel Village growing winterweed and a variety of vegetables for the town.
Grinder's Mill (mill) - Situated on the south side of the Boiling Brook, Grinder's Mill is an imposing two story building nestled amongst large shade trees. A large water wheel turns slowly from the north side of the building. Otherwise, the east, south, and west faces of the building are cut grey stone, without windows. The south side of the mill has three bays each with a path leading to them. There are a number of doors on the ground floor, set in the stone wall. A few glass windows can be seen on the ground and upper floor of the mill. <SEE DUNGEONS>
Guard Hut (guards) – These small buildings are of more recent construction. They are wooden consisting of four windows which have drop-down shutters containing arrow slits and a flat roof. There are no doors in the huts, as occupants are forced to climb in through the large windows, aided by retractable ladders. Each hut contains a single stool with one leg, requiring the occupant to stay awake or fall over.
Guild, The (playhouse) – A large, rambling wooden structure, The Guild, is actually two separate structures. The back building is a low, barracks style building divided up into multiple sleeping alcoves with a large communal kitchen in front. A small vegetable garden lies between the buildings. The front building is an L-shaped building which houses the Long Hall, a room filled with rows of benches and a large stage. The short side of the building is used as dressing rooms for the players. During the day, the Long Hall is filled with artistic types of all sorts, and at nights performances are oftentimes staged for the locals.
Hayseed Farm (farm) – Once a very nice farmhouse, the Hayseed farm has fallen into some state of disrepair. Several boards have fallen off the house and have been nailed back at odd angles. A number of shingles can be strewn about the yard after each storm. The house itself is a modest one-story wooden home.
Hedda's Herbs (herbalist) – This small thatched cottage on the outskirts of town is well visited by the inhabitants of Tegel Village. It is rumored that a spell has been cast over the building as it has been ignored by orc raids for over a year. The inviting smell of baking bread oftentimes greets visitors in stark contrast to the gruff welcome from its matron. Two young children and Hedda live in the back rooms of the cottage, and the front room is lined with shelves and cupboards spilling over with strange plants and herbs.
Hero and Hound (pub) – With a sign outside that reads, "Serving Tegel since 682", the Hero and Hound boasts being the oldest of the established watering holes in the village. A small dark-timbered place, the building is of stone construction. It's low ceiling leads to a darkly timbered, solid-looking barroom. Without a traditional long bar, the Hero and Hound has several large common tables and some quiet booths. An old room at the back of the pub has been sealed over with plaster and has a silver key holy symbol of the Hearth hanging from the blocked doorframe.
Hillman Exchange (mercantile) – This large one-story building and its attendant storage huts has been a market for many years, although the current owners have been running the establishment for only the last twenty years. The building is actually one very large room with maze-like paths running through the store. The Hillman children greet shoppers and help them locate their wares in the labyrinthine shop. The oldest Hillman child sleeps at the store. Flammable supplies are kept in one hut behind the store while odorous supplies such as bat guano fertilizer are kept in another. A third hut is never opened.
Hobbit's Foot (cobbler) – An old, ramshackle building, the Hobbit's Foot, has a traditional round door leading into a tiny shop. A single chair sits ready for patron's while around the walls hang strips of leather, hammers of various sorts, measures and other tools of the trade. Brimby can oftentimes be found napping in the chair, although he does do his work here also. A strong smell of tobacco hangs in the room. A small round door leads to the Bigfoot's living quarters behind.
House of Usher (home) – The stone walls of this home are old with ornate carvings and gargoyles lining the roof. It's gothic architecture have prompted the children of the village to call it haunted. The cranky owner, Old Man Usher, doesn't help dispel the rumor. Old Man Usher is very protective of his estate and has several large dogs that roam about the lower floors while he is away. The house is locked and nobody knows for sure what is inside.
Inn of the Gruesome Goblin (inn) – The poorer of the two inns in town, the Gruesome Goblin gets its fair share of visitors. Rooms are often arranged for ahead of time, and a private entrance at the far end of the establishment allows couples to enter and leave unseen. Serving a good beer and stiff drinks, this inn is a frequent stop for the locals. The second floor contains the private rooms while a set of stairs behind the bar lead to Grinling's private quarters.
Jail (jail) – This simple stone building consists of a very small sitting area for two guards and two cells for holding prisoners. There is a window in the front with steel bars set into the deep old stone. The keys to the jail are carried by Captain Reem and Mayor Hobwing.
Loo – The small stone loos around town are remarkably clean and well-maintained. They are simple with a single pit that drops forty feet into water. These public buildings were the concept of Rumpole Rump who was a fastidiously clean person. Several still bear the Rump insignia.
Macallan's House (home) – This strange little building is more of a tower than a house. It is made of stone and is three stories high. There are no windows on the ground floor. The building is large enough for only one room. Windows on the top floor look out in all directions. Rumors hold that a strange man can be seen looking out from them.
Mad Cow (leatherworker) – Although the most odiferous work is carried out at the open back of the workshop, the Mad Cow has a pungent smell to it. The front of the shop displays a variety of leather goods, mostly hanging from hooks on the ceiling, giving the place a decidedly meat locker look. Devoid of any style, the shop is functional with a long counter running along the back of the display area. Here is where Shadworth shows off his magical items.
Maggot's Dump (home) – A filthy sty, this small, one-room dump is rarely visited by anyone except Maggot, who almost blends in with the disgusting decor.
Manor Malt (brewer) – The stone walls of Manor Malt have been many things over the years. The current incarnation of the two-story building is that of a brewery. The main floor of the house is basically one large room where the open fermentation of malted barley, wheat and even apples takes place in open vats. These are sold to the Inns and Pubs in Tegel along with small crocks to individuals. Phineous does not allow drinking at the brewery. The upper floor is the family home, and the basement is rumored to be filled with casks of aging spirits.
Militia Barracks (barracks) – This long low stone building is the home of the local militia. Two doors on either end of a long common room lead into the village square. The room is lined with bunks and footlockers, although only a few of them are in use. At the far end of the room, a small kitchen has been added next to a private room for Captain Reem. A back door in the kitchen is not commonly used.
Natty's Shack (home) – This small one-room affair at the southern end of town is old, but not totally dilapidated. Natty can almost always be found on the front porch with his pipe. The interior of the house is clean, although spartan. It is rumored that Natty keeps a fortune in gold stashed in a magical chest in the floorboards. Noble Nets (nets and ropes) – This small, one-room shop is filled with ropes and nets hanging from the ceiling. A small sleeping area at the back of the shop is used by its purveyor, Lyndon Longrope. One corner of the shop is piled with fibrous plants which will eventually be woven and wrapped into fine ropes and nets.
Orphanage of the Hearth (orphanage) - The orphanage is housed in an ancient, abandoned chapel. The chapel is clearly the oldest structure in the village, predating even Tegel Manor. It is built in the style of many early Third Age missionary chapels. The building is made of cut stone with a main sanctuary and attendant rooms behind. The chapel still has five stained glass windows remaining each depicting a long-forgotten saint slaying a dragon. The other windows in the chapel have been broken. The main sanctuary is filled with rows of bunk beds interspersed with tables, wardrobes and chests. The back rooms are filled with supplies. One small room has been made into a workshop.
Plowman Place (farm) – Of newer construction, the Plowman farmhouse is larger than most houses, belying the relative prosperity of its owner. Made of white-washed wood, the house is two-stories with an ample root cellar. A white picket fence surrounds the house, and Peter has planted black walnut trees around the place, although they will take many years to grow to maturity.
Plump Home (home) – This small, stone cottage is the target of much rumor around town, as it is the home of Philo Plump the barkeep and his four serving wenches. Oh, the tales that are told about what happens within those four walls! A newer building, the Plump home has two bedrooms in the back, a sitting room near the front of the house, and a kitchen next to that. An upstairs room with windows facing in all four directions is the domain of Philo himself.
Rectory (rectory) – This small stone building between the chapel and orphanage serves as housing for the local clerics. Two small guest rooms are always ready if a visiting priest should come to town. This building has served both the old chapel (now the orphanage) and the new chapel for the last three hundred years. About twenty years ago, the building was extensively remodeled with four bedrooms and a simple common room and kitchen were added. Father Simon usually leaves a note on the door of the rectory when he is in the chapel or calling on his flock.
Roark's Home (home) – This large home was thought cursed for years. A number of years ago, the second floor collapsed and the building remained empty until Roark bought it and began restoring it using money earned from using his Rod of Resurrection. A nice sitting room, kitchen and bedroom have been finished. However, the second floor is still untouched. Roark has mentioned creaking footsteps in the upstairs, although no ghosts have been seen.
Rusty Hook (fish monger) – Recently converted from a farm house, the Rusty Hook is basically two rooms. A front "store" consists of two large sideboards on either side of the room displaying the daily catch. In the center of the room is a butcher's table which doubles as a card table in the evening. A number of chairs are pushed up on the wall. The back room is Esmond's bedroom, a filthy mess of a room that hasn't seen a cleaning in many months.
Sam's Hut (home) – Undoubtedly the most run-down place in town, this one room hovel is almost just a lean-to. The home is filled with dirty rags, discarded furniture and other items scavenged from the town's trash. Reeking with a stench of long-rotten food, nobody ventures into this hut.
Silver Mitre (carpenter) – An old building, the Silver Mitre has been a carpenter's shop for years. The interior is breathtaking. At first, it appears to have been carved from a single block of wood. Every surface is scalloped, shaped or molded in some way. The tradition started to show patrons the different types of fine woodworking that could be done, but the shop has become more of a whittling project gone mad. The upper floors are the private residence of Halbert, although he will happily show any the detailed craftsmanship of those rooms as well.
Silver Quiver (fletcher & bowyer) – Nestled in a small copse of hardwoods just north of town is the shop of Farshot and Bristlebow. Two stools on the front porch are often filled with the artisans making arrows or working the wood for a bow. The interior of the shop is neat with large barrels of arrows and a number of bows proudly displayed on the wall. A special glass case displays the magical wares. The back room is Barlow Bristlebow's private residence. An archery range is set up behind the shop and either man will be happy to give lessons on their weapons.
Silverhand and Cutbeard (jeweler and gemsmith) – This long building has been divided into two small shops with a common living area in between. These are the shops of the town gemsmith, jeweler and goldsmith. One entrance leads to the tidy, prim workshop of Cutbeard. A magical safe in the back of the shop holds his precious materials. A glass case displays items of simple beauty that are within the budgets of the townsfolk. The other entrance leads to the messy workshop of Silverhand. Tools and materials are strewn about the shop, although a locked chest is tucked away for safe keeping. There are no items for display here, although Silverhand will be happy to show off his wares to interested buyers.
Singing Skiffs (boatwright) – The interior of this one story wooden shop has been decorated to imitate the interior of a large sailing ship. Several hammocks are strung along the back wall. A large mast near the front of the shop is rigged with a large sail which is pulled to form a billowy ceiling in the shop. A round table in the center is surrounded by upended casks, forming a makeshift card table. A bar along the side of the room is cluttered with empty bottles of rum.
Southbank Farm (farm) – This two-story stone home is an older structure dating back at least 200 years. Recent orc raids have prompted the Goodhand's to add iron bars to the first story windows and a iron-banded door. In addition, a high wall has been constructed around the edge of the property and the trees cleared from this area. While still a serene setting, the Southbank Farm resembles a military outpost as much as it does a farm.
Sterndale Home (home) – This two-story house is typical of rich merchant homes of the mid-eighth century. It has carved banisters and lavish fireplaces. Carefully maintained over the years, this home is one of the finest in town. The ground-floor sitting room is a popular stop for the town gossips, and Karin Sterndale has a small birthing room on the floor, as she also acts as the town's midwife. The upper floors and basement are private.
Stilingfleet Mansion (retired magistrate) – This three-story townhouse is nestled between the town hall and the new chapel. It has an imposing façade with iron bars on the lower levels and a great wooden door bound with iron. The stone of the building is of the highest quality with stone gargoyles perched on the corners of the highest point. The only public room in the house is the sitting room, or "court room" as the locals jokingly call it. Stunningly decorated, it has richly paneled walls, beautifully carved furniture and a large mantled fireplace. A large table is used as the judge's bench.
Sweetvines Home (home) – This tiny house is impeccably neat with stone walls and a dark purple trim. A small stoop leads to the four-room home of the town's vintner. The rooms are neat, albeit plain, and Wilma Sweetvines can be found most days sitting on the front porch chatting with her women friends or cleaning the house for her husband.
Tegel Traders (grocer) – The central market for the area, Tegel Traders is filled with vegetables and fruits of seasonal variety. These are in long bins in the center of the market while the shelves surrounding them are filled with preserves, canned vegetables, and other local delicacies such as Awlman fresh pies and Granger lemon cookies. The back of the shop contains two locked rooms. One is an office used by Salmon. The other is unknown. A large cellar under the grocer is used for storage of boxes, crates and barrels.
Thistle and Thatch (thatcher) – This small shop is really Thatch's home. A small workshop out back holds his tools and a wagon for carrying supplies to the work site. Piles of straw and thatch surround the house, and bundles of the material have been carefully piled against the building. A sign in front proclaims "No smoking of winterweed near this shop." The rest of the structure contains private quarters.
Twill and Tartan (weaver) – This small wooden shack behind the Inn of the Gruesome Goblin is an old converted stable. The upper loft has been turned into Watt's living quarters while the lower room has been cleared of stalls and now is the efficient workshop of the town weaver. Bolts of cloth are in the rear of the room, and a tidy workbench is in the center.
Village Hall (village hall) – The Tegel Village Hall is a three-story stone building, although the second floor is mainly an open atrium to the meeting hall on the first floor. Well appointed, the room has benches at the back of the room, near the entrance, for the commoners. These give way to simple wooden chairs in the middle of the room, and finally nice leather and stuffed chairs near the council table. The table is an ancient oak piece with fancy scrollwork and huge lion's feet. Four chairs are arranged behind the table. This is where public decisions are made. Behind the meeting hall are two offices for the mayor and the sheriff (currently used by Captain Reem when he needs to talk in private). A back door leads to the jail. The small second floor is used by Hob as his private residence. The top floor of the building is currently vacant. Rumored to be haunted the spirit of a past sheriff who was captured and tortured by orcs, nobody has been keen on using the space.
Whetstone and Sons (weaponmaker) – This shop provides all of the weapons and many of the farm implements for Tegel Village. Unlike most shops in Tegel, there is no front room to this shop. The stone building has no windows, and the doors are all bound with heavy iron hinges. A large room which opens up onto the grassy area behind the shop contains the forge. A large anvil is oftentimes pulled into the yard to work. The weapons are displayed hanging on the wall or laid across the rafters of the building. Magical weapons are kept in a free-standing iron safe in the center of the room.
Whetstone Home (home) – An older home from a more prosperous age, the Whetstone Home is well-maintained and always filled with children. The upper floor is divided into a number of bedrooms for the extended family, and the main floor has a large playroom for the kids, a proper sitting room and a sprawling kitchen. Samuel's private study is the only room in the house that is off limits. The kids will tell anyone who listens that the cellar is haunted.
White Horsed Sleigh (inn) – The White Horsed Sleigh is the nicest inn in Tegel Village, built of stone with freshly painted wooden trim. The place is clean and safe. A long bar of new construction serves the village's famed white wassil. A variety of chairs and tables are scattered about the large public room. Several rooms upstairs are reserved for guests while the entrance to Hasnover's suite is behind the bar. A barracks-style room in the back are quarters for the inn's servants and wenches.
Zebulon's Home (home) – This unusual structure has no windows and only a single iron door with large metal hinges. Three simple stone steps lead up to the door. There is no vegetation around the home, although the structure itself looks well-maintained. Rumors around town relate that this strange home was once a nice merchant's house. Nobody can quite remember when it was rebuilt into the current form. The strange wizard within is also a mystery and favorite topic of conversation amongst the townsfolk.
Description of Shopkeepers & Notable Natives
Awlman, Penelope – the wife of Rufus Awlman, the village woodworker. Penelope is obviously of elven descent although she has taken a human name and does not hold to any elven traditions. A willowy woman with a matronly manner, she is an expert baker and supplements the family's earnings selling fresh fruit pies.
Awlman, Rufus (woodworker) – A large, good-natured man, Rufus and his wife Penelope live in a small room at the back of the Awl and Man with their two children. A third-generation woodworker, Rufus is an expert furniture builder whose work could be sold for many times the price he gets in Tegel Village. Rufus once tried to export a wagonload of furniture to Dragonsford, but it was burned by an orc raid on the caravan. It is rumored that the orc chieftain of the Bloody Claw sits on an Awlman-made chair stolen in that raid.
Axeworthy, Fawn (butcher) – A relative newcomer, Fawn is adept at slaughtering and curing almost any living creature. She is a young dwarf, handsome by dwarven standards, very quiet and taciturn. Her handiness with an axe has started rumors about Tegel Village that she was a warrior in service to Dugald Axeworthy. Tales of her exploits at the Battles of the Upper Narrows, however, have never been confirmed. Fawn lives above the shop by herself.
Fawn is actually an agent of King Goodfellow sent to spy on the orc movements in the area. She has been told to never fight and sends a report to her superior every Sunday night at dusk. This is done via a magical teleport that is hidden in the shop.
Beldame, Beatrice (councilwoman) – The ancient beldame of Tegel Village, Beatrice can be found scouring the village, poking her nose into everybody's business. She is sharp-tongued and exceedingly critical of others. Her honesty and energy have made her a mainstay of the village council for years. Her husband and children are long dead. Beatrice lives in the largest home in the town with her eight grandchildren.
Bidwell the Brave (retired captain) – Bidwell was the captain of the Tegel guards until he retired five years ago. He is getting up in years, although he keeps himself fighting trim. Almost bald with a fringe of gray, Bidwell was given the honorific by the town after years of good service. He keeps a set of magical chain mail and his magical long sword in his home. Bidwell lives alone.
Bigfoot, Brimby (cobbler) – The lone hobbit family in Tegel Village, the Bigfoots are well-known and loved. Brimby keeps the town shod as well as holding down a permanent seat at the town pub. Always smiling with a tall tale to tell the children of the village, Brimby's love of the winterweed is legendary. Brimby's wife, Marigold, is an accomplished singer and performs regularly with The Guild.
Bigfoot, Marigold – Wife of the town cobbler, Marigold is good-natured and has a voice that would be welcomed on stages throughout the Reaches. She lives with her husband and two children at The Hobbit's Foot. Marigold can oftentimes be found singing at the pub with her husband or performing with The Guild.
Billingsworth, Thaddius (thatcher) – "Thatch" is a sandy-haired, middle aged man with bright blue eyes and a quick smile. When not working on the local roofs, which are oftentimes targeted during orc raids, he can be found in the fields helping with the winterweed crops. Thatch is a member of the Builders, an ancient fraternity of artisans. Thatch is single and can be found nights at the White Horse Sleigh.
Bilgewater (boatwright) – Bilgewater is a fat, drunken sailor who has opened a seedy boatwright shop in town, mostly to have a place to play cards with his sailor buddies. He is quite skilled, but rarely sober. During the day, he can be found sleeping in his shop.
Blackbark (retired ranger) – Blackbark is a dark featured man of indeterminate age. He dresses in leather armor and is never seen without a bow and blade. He wears a strange silver amulet shaped like a black oak leaf about his neck. He comes into town at the end of each month to buy supplies and drink a few pints at the pub. Otherwise, he keeps to himself.
Blackbark is a werewolf who changes involuntarily on the full moon.
Blackguard, Gertie – Gertie is the wife of the town's blacksmith, Gustav. She is not a pretty woman, thick with a look that betrays her orcish heritage. Her loyalty to Gustav and Tegel Village has never been questioned.
Blackguard, Gustav (blacksmith) – Gustav is an aging barrel-chested man who works long hours meeting Tegel Village's need for a blacksmith. He is generally a jovial type, but has a quick temper. He is very sensitive to people poking fun at his slow, slurred speech. Gustav has one of two kilns in town. He lives in the shop with his wife, Gertie, and their four children. He is a business partner with Rold Flamebeard the Armorer.
Bristlebow, Barlow (bowyer) – Barlow is a young man, although his features hint of elfish blood as well. He is fair-haired, fair-skinned, and slight in stature. He is the assistant to Ellindell Farshot, the fletcher. Both are avid hunters, but have recently been spending most of their time making arrows to shoot at the orcs. An avid hunter, Barlow routinely brings home deer for the venison roasts common on holidays. Barlow lives at the shop.
Brother Bob (monk) – A generic term used to describe the monks of St. Jacob that live at the White Temple on Spirit Hill. The most common Brother Bob is a short, wiry man with a shaved head and a quick smile. He does not speak but trades pearls for common staples and supplies. The brothers are always dressed in simple dark blue robes.
Bushell, Brion (basketmaker) – The ebullient Brion can often be found strutting around town. A large man with thinning brown hair, Brion dresses in bright hues with large foppish hats. Brion makes marginal baskets, but he is very temperamental about those who criticize his handiwork. He lives alone at the back of his shop.
Canter, Cecil (poet) – Cecil is a gaunt, unshaven young man who is at times morosely quiet and when drunk outrageously loud. He can constantly be found writing in his notebooks and will gladly tell you a verse or two for a copper. He joined the Guild and keeps track of their books in addition to being their poet laureate.
Cecil is the youngest member of the Order of Five Scales. He was recruited recently.
Crazy Cogsworth (gravedigger) – Almost always in a drunken stupor, Crazy Cogsworth was reportedly driven mad by ghosts and spooks in the village graveyard. Cogsworth will hide from anything or anybody except Father Simon who he trusts implicitly. Cogsworth is a stooped old man with black rotting teeth and a thoroughly unwholesome appearance. He sleeps near the graveyard.
Cutbeard, Jacob (gemsmith) – A wiry man of indeterminate age, Jacob is quiet and watchful. His dark brooding eyes give him a sinister appearance as does his pointy black beard and mustache. Jacob has been in Tegel Village for about ten years, and is an accomplished gemsmith oftentimes doing free repair work for the church and less affluent villagers.
Cutsaw, Halbert (carpenter) – Halbert is a large, quiet man with bright red hair. Slow of speech, Halbert prefers to listen rather than talk. Moderately gifted at his craft Halbert proudly wears a silver builder's symbol from a silver chain about his neck. The silver mitre, also the name of his shop, has been passed down through the generations. It is rumored that the original Cutsaws were royal carpenters brought to Tegel Village by Rumpole Rump to help in the construction of Tegel Manor. Cutsaw is currently looking for a wife to continue the family legacy.
Dan the Dim (lighthouse keeper) – Dan the Dim is the lighthouse keeper. See the Dim Lighthouse for a complete description.
Darkwing, Hob (mayor) – Hob was the town drunk before being elected mayor. A thin, dark-haired man who is generally unkempt and smells of stale ale, Hob has greatly improved his countenance since taking office. Hob is a fair man whose decisions are somewhat inconsistent and usually unorthodox. He was elected into office at the urging of Beatrice Beldame who wanted an easy-to-influence mayor, having been unsuccessful many times in the past to gain the office. Hob lives at the town hall, although he oftentimes holds court in the White Horsed Sleigh.
Dashing, Dirk (tailor) – A middle aged man with sandy hair, both thinning and graying, Dirk tries to pass himself off as a man half his age. He dresses as a young man and can often be found in the pub chatting up any young woman who stops by for a drink. His tailoring skills are crude at best, but the demands of the locals are low. Dirk tends to tell wild stories and sing drunken ditties late into the evening.
Faintheart, Jensine (fortune teller) – Jensine is a squat middle-aged woman with long black hair streaked with grey. She is the latest in a long line of mystics trying to make her mark on Tegel Village. She seems relatively talented with tarot cards, although she prefers to gaze into her crystal ball. Her shop is filled with the wafting scents of incense, although she has a sweet tooth that will often bring the seeker a better result from her mystic scrying.
Farshot, Aryishia – Aryishia is the wife of Ellindell the fletcher.
Farshot, Ellindell (fletcher) – An elderly elf, Ellindell came to Tegel Village after a magical accident erased his memory. Once a great warrior, Ellindell now works with Barlow making bows and arrows. Very gifted, Ellindell is very forgetful, lapsing into long silent periods. His wife, Aryishia, cares for Ellindell and their six grandchildren in a small house in Tegel Village.
Flamebeard, Rold (armorer) – Rold is a sturdy dwarf with bright red hair and beard. He loves to tell stories about the olden days when he fought with the dwarven hammerers against the black orcs of the Dreadwood. Rold's wife died about six years ago, and the sturdy dwarf brought his three children to Tegel Village to live. The family lives in the shop. The Flamebeard children are being raised mostly by Gertie Blackguard. He is business partners with Gustav Blackguard.
Foambringer, Mirri – Daughter of Phineous Foambringer, Mirri is the town beauty. Being the daughter of the town brewer does not diminish her allure either.
Foambringer, Phineous (brewer) – Phineous is a rotund man with a halo of graying hair. He is always smiling and humming a strange tune that he supposedly learned while slaying Sandalese knights in the Southern Reaches for King Goodfellow. Always quick with a tale of his bravery, Phineous seems to have a poor grasp of geography and history for a man who was almost made a Knight of the Realm on so many occasions. Phineous makes a good ale and a passable stout. He lives with his daughter, Mirri, at the brewery.
Fulsome, Grinling (innkeeper) – The gnarled keeper of the Inn of the Gruesome Goblin. Many think that Grinling is actually of goblin descent. A short, stumpy man with blackened teeth and unruly black hair, Grinling's nature does not reflect his grim appearance. The innkeeper is good natured and always quick with a joke. His prized possession is a Dagger of Goblin Slaying which he proudly shows to interested parties.
Gholson Ghoulslayer (farmer) – Gholson is a quiet reclusive man who rarely comes to town. He is tall and thin with wispy grey hair. Gholson farms the famed Tegel Manor winterweed. His nickname comes from his slaying of a ghoul that attacked Tegel Village many years ago. Gholson killed the creature with a burning torch as it moved across the town square attempting to snatch a child playing near the town hall.
Girthsome Glenda (dairywoman) – Girthsome Glenda is a large woman of indeterminate age, her long red hair pulled up in a kerchief. Constantly on the prowl for a husband to help her with the dairy, Glenda is a consummate gossip. She is always cheerful and willing to stop and swap a story. She lives by herself at the dairy.
Gladhand, Margaret – Wife of Rufus Gladhand, Margaret is a busy woman, helping with the fields and still running the household. She is an excellent shot with the bow, and her cautious nature has kept the Gladhand's from the danger of orc raids. She is middle-aged, and like her husband has a ruddy complexion. Her laugh is booming, and everybody knows when Margaret comes to town.
Gladhand, Rufus (farmer) – Rufus grows a variety of winterweed that he proudly calls Southbank. His farm is tidy and well fortified, as he lives far to the south of Tegel Village. He is a middle-aged man with a ruddy complexion, stocky build and piercing blue eyes. He and his wife are infrequent, although welcome, visitors to the town.
Glassford, Henry (glassblower) – Sir Henry, as he is nicknamed, is a competent glassblower, although his skills are rarely tested in Tegel Village. Henry came to Tegel from the southern Barony of Greenfield where he was rumored to be the sixth son of the Baron. Henry is an older man with grey hair, average build, and refined manners that mark him as an outsider to Tegel Village. Henry's wife died several years ago in an orc raid on the village. Henry lives alone in a small, well furnished room at the back of his shop.
Goldtooth, Gnobbin (tinker) – Gnobbin is a gnome that at first glance appears to be quite mad. Dressed in a coat covered with dozens of brightly colored patches and pockets, Gnobbin can be found wandering the streets of Tegel Village on most days. Very clever with tools and all things mechanical, Gnobbin can cast low level mage spells. Using these talents, Gnobbin makes his living as the town tinkerer.
Goldtooth, Gurna – Gurna is the wife of the town tinkerer, Gnobbin. She is as strict and straight-laced as her husband is quirky. The Gnobbins live in a small home behind the shop with their four children.
Goodbread, Aron (baker) – Aron Goodbread recently took over the bakery when his father died. A decent baker, Aron lacks his father's talent for sweetbreads and pastries. His fare is solid and filling, and the bread on the shelf of his shop rarely lasts the day. Aron is tall and rather plain-looking with a hawk-like nose and small beady eyes. Aron stutters when talking with young women. Aron lives at the shop and rarely ventures out into town.
Goodweather, Simon (father) – Kindly old Simon Goodweather has been the high priest in Tegel Village for years. He wears a ragged old white cloak with the silver key and plow embroidered on it. A loyal follower of the Church of the Hearth, Simon holds a simple service at sunrise on holy days. Otherwise, he asks parishioners to pause at the rising sun to thank Geb and give generously when able. Simon mostly cares for the Chapel of the Hearth, leaving care of the Orphanage to Linus Holysword. Simon lives in the rectory.
Granger, Congal (farmer) – The Grangers are a large, sprawling family of ten that remain poor due to their numbers despite typical prosperous crops in corn, wheat, and vegetables. Congal is most proud of four lemon trees that grows on his farm despite the cold weather and frigid temperatures. A Granger lemon is a fruit to be savored. Congal's wife, the ever-pregnant Missy, is as good-natured as her husband. Both are fair haired with bright blue eyes.
The lemon trees are around a fumarole that leads to the underground caverns.
Granger, Missy – Missy is the wife of Congal Granger. She is famous for baking a lemon cookie that has been known to start fights when supplies run short.
Granitefist, Stillingworth (stonemason) – Stillingworth, also known to the locals as Stony, is a mountain of a man with thick red hair, a flowing beard, and a countenance of stone. He is a man of few words and takes his work very seriously. Compared to Rockhill, his ogre assistant, however, Stony is a pleasant man who likes hard work and a good fistfight. Stony likes to fish in his free time and can oftentimes be found at Bilgewater's.
Granitefist, Vivian – Vi is the wife of Stillingworth Granitefist, the village stonemason. She is a very quiet, timid woman who rarely ventures out of her home except to buy supplies to feed their twin girls. Vi has also discovered a magical scrying bowl among her husband's possessions.
Graybeard, Whitwell (farmer) – Despite his name, Whitwell is a young man long golden hair and no beard of any kind. Friendly, but somewhat slow, Whitwell is known for his honesty and hard work. His wife, Ami, arrived about ten years ago with a gypsy road show. The two were wed shortly after Ami arrived and a fight ensued when her father did not receive enough dowry for his daughter. The gypsies cursed Tegel Village as they left and have not returned. Father Simon performed a blessing after the incident and claimed the curse broken when the Graybeards had their first child. Worthington Graybeard, Whit's father, did have a long gray beard and was well respected in the community.
Graybeard, Ami – Ami is beautiful with dark hair, smoldering brown eyes and swaying hips that hint of her past as a belly dancer. Devoted to Whitwell, Ami is always cheerful and has three happy children. Her fiery temper only rises to the surface when someone speaks poorly of Whit.
Greenleaf, Anton (farmer) – Anton is the classic grumpy old man. He is past seventy and still works the earth every day in his worn and tattered clothes. A constant white stubble and hazy black eyes give Anton a mean appearance. Anton's son and daughter-in-law died while defending the family stable years ago. Since then, the old man has raised three grandsons single-handedly. The Greenleafs are respected if a bit rough around the edges.
Grind, Burwright (miller) – Grind is the village miller, although his real name is Bobo. Grind lies at the mill, a building he won in a card game several decades earlier. Grind has a fast temper and will fight anyone who questions his integrity. Given his penchant for exaggeration and heavy-handedness with his scales, Grind has been in a number of scraps over the years. He is oftentimes at the Bark and Byte complaining about something and reeking of sour mash.
Hashsome, Jason – Jason is the son of Hashsome the locksmith. The town prankster, the young Jason has pulled some monumental stunts in his time. Slight with dark features and mischievous eyes, he is a favor amongst the girls and boys in town. The town elders frown upon his undisciplined manner. Jason can be seen prowling the streets at night, usually looking for trouble.
Hashsome (locksmith) – Hashsome is a very small man, barely bigger than a child. As such, he appears much younger than his age. Dressed in leather armor, rumors abound about his thieving past. However, there are few robberies in Tegel Village, and Hashsome has never been caught. His shop, the Bar and Bolt, sells very nice equipment for such a remote shop. Hashsome lives at the shop with his son. His wife and daughter died of the pox a few years ago.
Hasnover (innkeeper) – The jovial bartender and owner of the White Horsed Sleigh, Hasnover tends to be drunk much of the time. The inn is renowned for a special mulled wine drink called white wassil which Hasnover sells at a low price to keep its popularity high. A large man with a sharp sword, Hasnover is very protective of his two daughters. During the day, he can be found throughout town buying supplies and gossiping with the locals.
Hayseed, Leslee – wife of Wark Hayseed. Leslee is a good-natured girl with long honey hair and blue eyes. She stutters when she speaks, although she is very bright.
Hayseed, Wark (farmer) – Wark and his young bride work the Hayseed family farm, although the young man doesn't seem to have any aptitude for the task. Wark tried growing various vegetables without success, but he has recently given in to growing grain. The Hayseed farm is slowly falling into disrepair.
Hedda (herbalist) – Hedda is an ancient crone, almost blind and hunched. She wears tattered clothes and walks with a gnarled black staff. Hedda is the local herbalist, although she now relies on her two grandchildren to gather many of the more common plants of the area. Hedda can be very gruff, but she has phenomenal skills and is oftentimes consulted on matters of great importance. Hedda is also the town apothecary and healer.
Hillman, Doak (merchant) – A lean man with long, straight hair and hawk-like features, Doak is one of the more influential villagers. Open twenty years ago, the Hillman Exchange supplies Tegel with most of its non-foodstuff needs. Doak is free to give credit to villagers, but expects their support on the council in exchange. Doak lives with his wife and four children in one of the village's few stone homes. Their eldest child lives at the store.
Hillman, Reeza – wife of Doak Hillman. Reeza a large, bullish woman with large, brown hair and a nasty disposition. She is a town gossip and is known to threaten anyone with "action by the council" if crossed.
Holysword. Linus (deacon) - Linus is a tall man in his early forties. He typically wears a white cloak with a silver sun rising over a mountain embroidered on it. The cloak is worn over a suit of scale mail. He came to the village five years ago after a long service to the Eastern Reaches fighting orcs in the Forbidden Forest. Now, he serves Father Simon Goodweather as an assistant priest. He actively can be seen helping others in the village. He always carries his magical orc-slaying long sword. He lives at the rectory. Linus is in charge of the twelve children that live at the Orphanage.
Hornblower, Hobart (guardsman) – Hobart was a tiny child, and he has grown up to be a bully. Naturally, he joined the guard as soon as he was allowed. Kept in line by Captain Reem, Hobart is quick to react and slow to think. He is a very short, wiry man with brown curly hair and a perpetual snarl on his face.
Keeneyes, Hogg (guardsman) – Hogg joined the guards, it is rumored, to avoid the hard labor of the farm. Hogg is a huge boy with rolls of fat and small beady eyes. He is a competent guard, although untested in actual combat. When orcs attack, Hogg usually gets assigned to warning the outlying farmers, a task that usually bars his return to the village until after the fighting is over.
Longrope, Lyndon (ropemaker) – Lyndon is an average-sized man with undistinguishable features, dark hair and a constant smile. He retired from fishing after being swept off a boat during a storm. He managed to swim ashore, but the harrowing experience has left him with a fear of the water. Adept at making rope and nets, Lyndon provides excellent fishing nets to the local villagers. Lyndon hangs out with Bilgewater, although he is not known to drink.
Maggot (beggar) – Always found reeking of sweat and stale ale, Maggot plies a good trade as a beggar. He is paid one copper by most of the shopkeepers to stay away for a week. Maggot can usually be found passed out in his hut. It is said that Maggot was once a fighter in service to King Gregory the Evenhanded, although he appears to be only in his fifties. With all that dirt, it is hard to tell.
Natty (gambler) – Natty is a retired merchant who spends his days napping in a large chair on the front porch of his home and his evenings gambling with his buddies, especially Macallan Spadehigh at the local pubs. Natty is a thin man and walks with a cane. He is fond of whisky and is a fair card player.
Nodcock, Cretin (barkeep) – It could be that Cretin is the oldest inhabitant of Tegel Village. He is perhaps the ugliest dwarf ever seen. His humped back and bulbous growths are further heightened by numerous scars and his peg leg which is even made from a crooked piece of wood. Cretin runs the Bark and Byte, the lowliest pub in town, and he has done so for decades. His background is a total mystery, as he does not speak of it with anybody. Those who ask get the painful side of a large mace that he has behind the bar.
Oldhen, Olga (oil maker) – Olga is a plain middle-aged woman who tends to wear inappropriate attire in order to attract a new husband, as her previous mate died in a fire three years ago. Olga is dark featured and has a bitter sardonic humor about her. She runs her business, living in the back of her shop with her two children. The Oldhens have a trained jaguar which the kids delight in taking for walks around town to scare the local dogs and residents.
Plowman, Jane – Jane is the wife of Peter Plowman. She is an attractive middle-aged woman with bright red hair and green eyes. She is the financial wizard behind the family's very successful tobacco farm.
Plowman, Peter (farmer) – The Plowman family are the finest growers of winterweed, and other than a small personal garden, they grow tobacco exclusively. Peter is approaching middle age, but he is still trim and athletic. He has an engaging smile and bright piercing green eyes. Peter and his wife Jane's two eldest children (twins – one boy and one girl) left Tegel last year on the caravan. Their two youngest children remain in the business. Peter does not drink and can be found helping Father Simon on his few free days.
Plump, Philo (barkeep) – Philo is the rotund, balding owner of the Hero and the Hound. He can always be found at the bar looking for a good game of cards. Philo is an excellent gambler and supplements his marginal establishment with winnings from games of chance. Serving watered-down beer at reasonable prices, the Hero and the Hound is clean and well-maintained. Philo has four serving wenches which provide a draw for several of the villagers. Philo and his girls live in a small stone home in the village.
Potkins, Peregrine (potter) – Other than winterweed, the pots and vessels of Dreadwood Stoneware are the most demanded export from Tegel. These are the masterwork of Peregrine Potkins, a small, mousy man who wears thick round spectacles and seems lost in his work. An amiable fellow, Peregrine is never found carousing after dark.
Peregrine is the middle member of the Order of Five Scales. He uses his pottery to send messages to the other members via 4 "special" pots made with a code in them. The "key" to the code is in the bottom, and the pot must be broken to get the key. So, you must write down the code before breaking the pot. This is the safety feature which keeps the messages safe.
Pyper, Piers (musician) – A true bard, Piers came to Tegel a decade ago on a trade caravan where he was working as an inept guard and excellent entertainer. He fell in love with the winterweed and the seclusion of the area. He is working on his epic ballad put to music which some feel may never be finished. He typically makes the rounds to the two inns and two pubs to earn a couple of coppers in the evenings. Piers is a sandy-haired young man of average build. The girls in town love his deep bass voice, and Piers seems to have a fondness for them as well.
Reem, August (captain) – Captain August Reem is an ex-militia veteran who retired to Tegel after fighting orcs in the Dreadwood for years. He is tall and wiry, always dressed in chain mail armor with his hair impeccably cropped and a winterweed cigar hanging from his mouth. His expertise has put him on the village council, and many believe that he is the sole reason that the orcs have been unable to overtake Tegel Village. Unhappy with his current recruits, August is always working on the local boys and girls to join the town guards. He holds free training in the town square once each week.
Roark the Resurrector (barfly) – Roark can always be found on his corner stool at the Bark and Byte or playing in a card game around town. He likes to drink but rarely passes out, usually returning to his home in the early morning hours. Roark is a big man with a bushy black beard and a quick smile. His only apparent source of income is his Rod of Resurrection which he will use on anyone for a hefty price.
Rockhill (ogre stonemason) – Rockhill is a somewhat dimwitted assistant to Stony Granitefist. He was orphaned at an early age, set adrift in a small skiff that was found by his boss during a fishing expedition. Raised as the son Stony doesn't have, Rocky, as the townsfolk call him, is respected but feared by many of the townsfolk. Rocky sleeps at the shop and helps Vivian Granitefist with chores when not working.
Rukhs (ogre archaeologist) – Rukhs has very recently come to Tegel Village in search of the ruins of an ancient dwarven migration called the Bluestone dwarves. Unable to get close to the ruins because of orcs, the large ogre spends his time in the tavern drinking and reading from his books. Very nearsighted, the giant figure is gentle, well-mannered and engages in discussion about almost any topic except his past.
Rump, Roughneck the Rotund (feared highwayman) – Descended from a distant branch of the Rump family tree, Roughneck and his brother Ruang are the only the two surviving Rumps other than Sir Runic. Roughneck has taken residence near Tegel Village and waylaid many a traveler, greeting them with a shrill, "Stand and deliver." Several years back, he nailed a proclamation to the door of the Village Hall stating that anyone attempting to buy Tegel Manor would be killed and any woman attempting to marry Runic Rump would meet the same fate. It seems that Roughneck wants to inherit the manor. He is wanted by the local militia.
Rump, Ruang the Ripper (assassin) – Some say that Ruang Rump is merely a legend, a boogey-man to frighten children and the dimwitted Sir Runic. Others swear that the younger brother to Roughneck Rump has been magically disguised and now walks the streets of Tegel Village as a common townsfolk. The latter would explain Roughneck's ability to dodge the law and stay one step ahead of Captain Reem's attempt to bring him to justice. Whatever the case, Sir Runic is terrified that Ruang will someday come and assassinate him.
Rump, Sir Runic (Thirteenth Lord of Tegel Manor) – Dim-witted owner of Tegel Manor, Sir Runic constantly attempts to sell the Manor, often for unbelievable cheap prices. Also, twice lost in card games, the manor's new owners have always returned asking for their money back - often at threat of violence! In a vain attempt to escape his legacy, Sir Runic had a powerful Forget spell cast on him several years back, the result of which he is very fuzzy about the details of the manor. Being nearly penniless (see the Tomb of Redurn Rump for an explanation), he has hopes for getting something out of his feared family home. He is distraught over his various relatives and ancestors various corrupt modes of living and is frightened by most family members, especially the rumors of Ruang Rump the Ripper. Sir Runic is currently staying at the White Horsed Sleigh Inn, although his credit is running short.
Shadworth (leatherworker) – Shadworth is a shady character who is known around town as a cheat, although careful bargainers can still get good work from him. A greasy, dark haired man, Shadworth is approaching middle-age, although his eyes and gaze are those of a younger man. Drinking every night at the Bark and Byte, Shadworth can usually be coerced into a game of cards, although he almost always loses. He lives alone at his shop.
Shamira (guardsman) – Beautiful, deadly and arrogant are the words used by most villagers to describe Shamira. A brown-eyed brunette with an athlete's build, Shamira is the only woman on the guard, and she goes over the top to prove her value as a fighter. Always the first to jump into danger, Shamira is a reasonable fighter and learning quickly. She is honest to a fault. Just don't call her "missy" and try and pinch her. The last fellow who tried that is missing his thumb.
Sharpsword, Evarts (guardsman) – The newest recruit, Evarts is still a fighter in training. He is honest and hardworking, although somewhat gullible and trusting of everybody. He idolizes Captain Reem and fears Lieutenant Whalesome. Evarts gets all the tough jobs, although he rarely complains. Many around the village think that Evarts will be Captain someday.
Silverhand, Jonathan (jeweler) – Jonathan is the town jeweler and an extraordinary artisan. He is waspishly thin and has dark unkempt hair. The lights in his shop are often burning deep into the night, although his thoroughly nasty disposition keeps the townsfolk from investigating too closely. Rumor holds that Jonathan came to Tegel Village after being cursed by magical locket on which he was working.
The rumors are true. Jonathan is working to solve a curse that has put him under the control of the chieftain of the Orcs of the Bloody Claw.
Spadehigh, Macallan (gambler) – Macallan came to Tegel Village ten years ago to relax and play cards with the other old men of the village. He proclaims to be an ex-soldier, but his skills betray a more sinister background. Now elderly, he passes his evenings with his friend, Natty, playing cards. Macallan is also an expert dart thrower.
Spelman, Johannas (actor) – Johannas is the youngest member of the Guild. He has recently joined the group from the orphanage. He is a gaunt boy with dirty brown hair which he wears long over his eyes. Dressed as a vagabond, he spends his time away from the other artists trying to earn money by enacting scenes from famous plays. Not accomplished, Johannas has some talent for the art.
Sterndale, Karin – Karin is the wife of Salmon Sterndale. She is shrewd but fair in dealing with the townsfolk. While she occasionally helps out at the store, Karin is busy raising the four Sterndale children. Karin acts as the town's midwife.
Sterndale, Salmon (grocer) – Salmon is the town grocer, marketing vegetables brought in by the locals. He buys low and sells high, but his standards for quality have kept him in business. The yearly caravan brings exotic items to Tegel Traders and oftentimes proves to be a windfall for the merchant. A thick man with a bushy crop of yellow hair, Salmon is one of the more trusted shopkeepers in the village. The Sterndales live in one of Tegel's nicest houses.
Stilingfleet the Shrewd (retired magistrate) – One of the village's wealthiest men, Stilingfleet gained his nickname from years as a judge, tricking criminals into proving their own guilt. Now retired and bedridden, Stilingfleet is attended by his two grandchildren. His home is occasionally opened to hold "court" if there is some outstanding village issue, but mostly the elderly magistrate keeps to himself. He does have a fondness for pottery and displays an impressive array of pottery both local and imported.
He is actually the senior member of the Order of the Five Scales. He frequently summons Potkins to his home, as it is getting difficult for him to sneak around town any more.
Stillwater, Esmond (fish monger) – Owner of the Rusty Hook, Esmond is a true town character. Always joking, it is hard to get a straight answer from him. Mostly trying to rhyme everything he says with the name of a fish, Esmond is considered a harmless eccentric. He is friends with all the fishermen and has been known to close shop and join the boats when the fish are biting. Esmond is a tall man, thin with blonde hair turning gray at the temples. He is usually dressed in a leather apron and dingy white shirt. Esmond lives at the shop.
Sullen Sam (drunk) – Sam is the town drunk who lives off the kindness of Father Goodweather and his friend Maggot. Sam is a thin man, balding with grey fringes. He oftentimes sleeps outside the Bark and Byte, as his home is hardly fit for habitation.
Sweetvines, Wilma – Wilma is the wife of the town vintner. As pompous as Winton is, Wilma is humble and subservient. She takes care of the Sweetvines house, rarely visiting the shop. Wilma is a willow of a woman with brown hair and brown eyes.
Sweetvines, Winton (vintner) – The snobby Mr. Sweetvines, as he likes to be called, is the purveyor of wines in Tegel Village. He has a small shop with a decent selection of wine. Large and slow-moving, Winton is careful and precise about everything, although his flair for the dramatic gets tiresome. Winton never fails to point out to customers that he has a selection of fine imported wines in a glass case at the back of the shop.
Thistledown (fey sprite) – Thistledown came to Tegel Village several days ago from the Eldritch Woods near the coast. She is seeking adventurers to help her rescue the fey Queen Phoebe from a curse that has befallen her ring. She is currently at the White Horsed Sleigh and will happily talk to anyone interested in her plight.
Usher, Old Man (retired merchant) – Old Man Usher is the town grump. Always poking his nose into other people's business, the retired artifact merchant from Teufeldorf is the bane of all small children. Usher is currently wooing Beatrice Beldame, although not getting very far. He lives in a nice stone house in the village.
Waghorne, Zafira (playwright) – Zafira is a young, large woman with flowing blonde hair and blue eyes. Her smile is quick and bright. Several years ago, she bought the Guild, an old stone barracks which she has converted into a town playhouse. She is currently working on a new play and hoping to attract the local youths to help her put on her plays. Several actors have joined the Guild and live at the playhouse in commune-style arrangements. Many of the older townsfolk think Zafira is disgraceful, crazy or both.
Wefthread, Watt (weaver) – Watt is the town weaver. A small, round man with thinning brown hair and brown eyes, Watt is also adept at dyeing and sewing. He will sometimes use local help in doing mundane patching, but when paid and motivated, Watt is a true artisan. It is rumored that Watt has created a Cloak of Invisibility which he uses to move around town without notice. Watt's wife disappeared under mysterious circumstances two years ago.
Watt is in league with Abraxes.
Whalesome, Blount (Lieutenant) – Blount's enthusiasm for dispensing justice in his own way is tempered only by his fear of reprisal from Captain Reem. Blount is a tall ox of a man with quivering jowls and an unruly mop of black hair. As the second senior guardsman, Blount has never seen formal military action, although he is adept with the long sword and a fair shot with the bow. He is brave and has killed many orcs. He thinks himself the lady's man, although the girls think otherwise.
Whetstone, Samuel (weaponsmith) – Whetstone and Sons have been providing weapons and metal tools to Tegel Village for three generations. Middle-aged, Samuel is still a strong vibrant man with close-cropped gray hair. His forge radiates an aura of magic and is rumored to have been blessed by the dwarves that originally built the Tegel Mines. He whistles almost constantly, a habit that has endeared him to some and is tolerated by others. Samuel Whetstone and his three sons and daughter help out with family business.
Whetstone, Tanya – Tanya is the young wife of Samuel Whetstone, the town's weaponsmith. She is his second wife and twenty years his junior. Samuel's first wife died in an orc raid several years back. She is exceptionally pretty with a light complexion and freckles, brown hair and blue eyes. She raises Samuel's four children by his first wife, and she is expecting a child herself in a few months. The Whetstones live in a nice home in the village.
Whitelocks, Woodfin (alchemist) – A scarecrow of a man, Woodfin may be part elfish as he has not seemed to age over the years. He is, however, almost mad, always wandering the streets talking to himself about this formula or this potion. His shop, the Golden Goose, was actually an old cloth maker's shop. It's walls are covered in small squares of fabric of various colors and prints. Woodfin now uses these to patch his own clothes, giving him the look of a ragtag gleeman. He is a capable alchemist when not on one of his rants of brilliance. He claims to have turned a lead egg into gold which he proudly displays for all to see. Woodfin lives in his shop.
Wildroot, Willa (tobacconist) – Willa runs the local tobacco shop, although most of her time is spent drying and processing the crops for export to the south. She does not charge the locals for tobacco, a practice which has given her a monopoly on the crop. A tall, dark, quiet woman of the most reserved nature, Willa lives with her invalid husband in a house in the village.
Zebulon (retired wizard) – Zebulon is an odd fellow. He lives in a house without windows and a single metal door set in massive iron hinges provides the only entrance to the abode. Zebulon has not been seen outside for nearly ten years. He has standing orders for supplies which are left on his doorstep and disappear sometime in the night. The rumors of a child knocking on his door and then disappearing have kept all from his stoop. Zebulon was last seen as an aged man with white hair and a flowing blue robe. Zennia (painter) – Zennia is a true flower child. Orphaned as a teen, she sought the guardianship of Zafira Waghorne rather than become a serving wench at the local pub. Pretty in a plain way, the slight slip of a girl has been wooed by most of the eligible men in the village. She has never accepted any of their advances preferring the company of her matronly protector.
Silver, Magic and Miscellaneous Items
Silver Weapons
Your character may buy masterwork versions of all weapons and armor. In addition, any normal weapon may be bonded with alchemical silver using the following costs. Creating items with special materials such as adamantine, darkwood, dragonhide, cold iron and mithral must be roleplayed.
| | | | |
| --- | --- | --- | --- |
| Qty | Item | Cost | Shop |
| | Ammunition | add 2 gold | Golden Goose |
| | Light Weapon | add 20 gold | Golden Goose |
| | One-handed Weapon | add 90 gold | Golden Goose |
| | Two-handed Weapon | add 180 gold | Golden Goose |
Magic Items
There are only a few magic items for sale in Tegel Village. In general, items not listed for sale in the PH are not available. Thus, you can buy alchemist's fire (PH p.128), but you can't buy magical potions (as these are found in the DMG). Now, there are some basic magic items for sale. These are listed below. You must roleplay buying these items as several may alert important NPCs as to your actions. Also, several major magical items will come for sale during the campaign. Note: the items listed below can be bought for any sized creature.
| | | | |
| --- | --- | --- | --- |
| Qty | Item | Cost | Shop |
| 1 | Studded Leather +1 | 1160 gold | The Mad Cow |
| 1 | Chain Shirt +1 | 1250 gold | Blackguard & Flamebeard |
| 1 | Chainmail +1 | 1200 gold | Blackguard & Flamebeard |
| 1 | Banded Mail +1 | 1400 gold | Blackguard & Flamebeard |
| 1 | Full Plate +1 | 2650 gold | Blackguard & Flamebeard |
| 1 | Buckler +1 | 1165 gold | Blackguard & Flamebeard |
| 1 | Heavy Wooden Shield +1 | 1157 gold | The Silver Mitre |
| 3 | Heavy Steel Shield +1 | 1170 gold | Blackguard & Flamebeard |
| 3 | Dagger +1 | 2302 gold | Whetstone and Sons |
| 1 | Greataxe +1 | 2320 gold | Whetstone and Sons |
| 1 | Greatsword +1 | 2350 gold | Whetstone and Sons |
| 1 | Kama +1 | 2302 gold | Whetstone and Sons |
| 2 | Longsword +1 | 2315 gold | Whetstone and Sons |
| 1 | Heavy Mace +1 | 2312 gold | Whetstone and Sons |
| 2 | Quarterstaff +1 | 2600 gold | The Silver Mitre |
| 1 | Rapier +1 | 2320 gold | Whetstone and Sons |
| 1 | Scimitar +1 | 2315 gold | Whetstone and Sons |
| 1 | Bastard Sword +1 | 2310 gold | Whetstone and Sons |
| 2 | Short Sword +1 | 2310 gold | Whetstone and Sons |
| 1 | Dwarven Waraxe +1 | 2330 gold | Whetstone and Sons |
| 1 | Battle Axe +1 | 2310 gold | Whetstone and Sons |
| 1 | Heavy Flail +1 | 2315 gold | The Mad Cow |
| 1 | Handaxe +1 | 2306 gold | Whetstone and Sons |
| 1 | Morningstar +1 | 2308 gold | Whetstone and Sons |
| 1 | Warhammer +1 | 2312 gold | Whetstone and Sons |
| 2 | Long Bow +1 | 2375 gold | The Silver Quiver |
| 2 | Short Bow +1 | 2330 gold | The Silver Quiver |
| 1 | Light Crossbow +1 | 2335 gold | The Silver Quiver |
| 1 | Heavy Crossbow +1 | 2350 gold | The Silver Quiver |
| 1 | War Hammer +1 | 2312 gold | Whetstone and Sons |
| 1 | Throwing Axe +1 | 2308 gold | Whetstone and Sons |
| 40 | Arrow +1 | 50 gold | The Silver Quiver |
| 20 | Crossbow Bolt +1 | 50 gold | The Silver Quiver |
| 20 | Sling Bullet +1 | 50 gold | Whetstone and Sons |
| 1 | Ring of Protection | 2000 gold | Silverhand & Cutbeard |
| 1 | Ring of Feather Falling | 2200 gold | Silverhand & Cutbeard |
| 1 | Ring of Climbing | 2500 gold | Silverhand & Cutbeard |
| 1 | Ring of Jumping | 2500 gold | Silverhand & Cutbeard |
| 1 | Ring of Swimming | 2500 gold | Silverhand & Cutbeard |
| 1 | Rod of Lesser Extend Metamagic | 3000 gold | Hillman Exchange |
| 1 | Rod of Lesser Silent Metamagic | 3000 gold | Hillman Exchange |
| 1 | Wand of Detect Magic | 375 gold | Gnobbin - Tinkerer |
| 1 | Wand of Light | 375 gold | Rectory |
| 2 | Universal Solvent | 50 gold | Golden Goose |
| 1 | Elixir of Hiding | 250 gold | The Bar and Bolt |
| 1 | Elixir of Sneaking | 250 gold | The Bar and Bolt |
| 2 | Bracers of Armor +1 | 1000 gold | Dashing Clothiers |
| 1 | Cloak of Resistance +1 | 1000 gold | Dashing Clothiers |
| 1 | Amulet of Natural Armor +1 | 2000 gold | Silverhand & Cutbeard |
| 1 | Bag of Holding Type 1 | 2500 gold | The Mad Cow |
| 1 | Stone of Alarm | 2700 gold | Cobblestones |
| 1 | Rope of Climbing | 3000 gold | Noble Nets |
| 1 | Boots of Elvenkind | 2500 gold | The Hobbit's Foot |
| 6 | Potion of Cure Light Wounds | 50 gold | Hedda's Herbs |
| 2 | Potion of Mage Armor | 50 gold | Golden Goose |
| 1 | Potion of Shield of Faith +2 | 50 gold | Rectory |
| 2 | Oil of Magic Weapon | 50 gold | Burning the Midnight Oil |
| 1 | Potion of Enlarge Person | 250 gold | Hedda's Herbs |
| 1 | Potion of Barkskin +2 | 300 gold | Hedda's Herbs |
| 1 | Potion of Blur | 300 gold | Golden Goose |
| 4 | Potion of Cure Moderate Wounds | 300 gold | Hedda's Herbs |
| 1 | Potion of Darkvision | 300 gold | The Bar and Bolt |
| 1 | Potion of Delay Poison | 300 gold | Hedda's Herbs |
| 1 | Potion of Invisibility | 300 gold | The Bar and Bolt |
| 1 | Potion of Lesser Restoration | 300 gold | Hedda's Herbs |
| 4 | Scroll of Identify | 125 gold | Gnobbin – Tinkerer |
| 2 | Scroll of Remove Fear | 50 gold | Rectory |
| 1 | Scroll of Silence | 200 gold | Rectory |
| 1 | Scroll of Sound Burst | 200 gold | Hillman Exchange |
| 1 | Scroll of Speak with Animals | 525 gold | Blackbark's Cottage |
| 2 | Scroll of Neutralize Poison | 1000 gold | Rectory |
| 1 | Scroll of Bless Weapon | 100 gold | Rectory |
| 1 | Scroll of Continual Flame | 425 gold | Rectory |
There are also a number of miscellaneous items and services for sale. In general, you will need to roleplay in order to get anything out of the ordinary. However, a few items are included on this table for reference.
Miscellaneous Items
| | | | |
| --- | --- | --- | --- |
| Qty | Item | Cost | Shop |
| | Winterweed | FREE | Worthy Weed |
| | White Wassil | 2 silver | White Horsed Sleigh |
| | Hobbit Elderberry Wine 806 TA imported | 10 gold | The Cellar |
| | Centipede Poison | 90 gold | The Bar and Bolt |
| | Palm Reading | 1 gold | Crystal Portal |
| | Resurrection cast by Roark | 12,500 gold | The Bark and Byte |
Hillman Exchange - Major Magical Items
By Consignment of the Estate of Elias Haggelthorn, Merchant Lord, the following items are being offered for sale at the Hillman Exchange.
Standard of No Retreat - Moderate Abjuration; Level 11; 217,500 gold - When attached to a two-handed weapon, this simple cloth standard provides the following effects: creatures within 30' are under the effect of Dimensional Anchor, creatures within 30' cannot run away from the standard (will negates DC 19), +4 Morale bonus vs. Fear effects to the wielder and all allies within 30'. This standard shows a gold mailed fist on a blue background.
Starmantle Cloak - Strong Abjuration; Level 11; 198,000 gold - This item is a black cloak with tiny stars. The cloak always gives off light as a torch. When non-magic weapons & missiles hit the wearer, they are destroyed and do no damage. If hit by a magic weapon or missile, the wearer gets a Reflex save vs. DC 15 for half damage.
Trumpet of Healing - Strong Conjuration; Level 13; 173,160 gold - This item is a masterwork trumpet. Its activation requires a Perform (wind instruments) check vs. DC 15. Three times per day, all non-evil creatures within 360' of the trumpet receive one of the following: Remove Blindness, Remove Deafness, Remove Disease, Cure Serious Wounds, or Neutralize Poison. One time per day, one non-evil creature within 360' of the trumpet receives the following: Heal. The person playing the trumpet does not benefit from its healing. Evil creatures cannot hear the trumpet.
Driftdisk - Moderate Evocation; Level 11; 170,640 gold - This six foot diameter stone disk weigh 1500 lbs. Upon a verbal command word, the activator may then telepathically control the disk up to 120'. The disk flies 30' with Perfect maneuverability and is able to carry 300 pounds.
Tome of Talent +4 - Strong Evocation; Level 17; 165,000 gold - This tome, when read and studied for one week, allows a +4 bonus to any one statistic (Strength, Constitution, Dexterity, Intelligence, Wisdom, or Charisma). The tome can be used once, after which it crumbles to dust. The effects are permanent.
Mantle of Faith - Strong Abjuration; Level 20; 114,000 gold - This mantle appears to be a simple white woolen garment. When donned, it provides a damage reduction of 5 from all evil attacks.
Robe of Wizardry - Strong Abjuration; Level 14; 112,500 gold - This long cloak is a wizard's best friend. It provides a +5 armor bonus to AC, spell resistance 18, +4 resistance bonus to saving throws, and a +2 enhancement bonus to Caster level for overcoming Spell Resistance.
Jug of Whirlwinds - Strong Evocation; Level 15; 97,200 gold - This beaten silver amphora is covered with runes of protection. Once per day when the jug is uncorked, a whirlwind is conjured that will last for 15 rounds or until dismissed.
Retributive Amulet - Faint Abjuration; Level 5; 84,000 gold - This simple amulet has the etched figure of a bee on it. It provides a +2 sacred bonus to AC. Half the hit point damage the wearer takes from melee attacks is done back to the attacker by the amulet.
Armor +4 of Invulnerability - Strong Abjuration; Level 18; 72,000 gold - This armor grants the wearer damage reduction of 5 against magic.
Sword +4, Blue Fang - Moderate Conjuration; Level 8; 72,000 gold - This weapon is the bane of blue dragons. Against blue dragons, the sword functions as a +8 weapon. It also bestows an additional 4d6 per hit against such foes. The weapon's blade appears to be made of blue dragon scales which glow softly when near such a beast.