Zachary Overton
From realm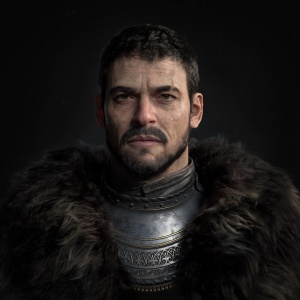 Zachary Overton, Tenth Baron of Overton, was a young boy of 10 when Crossgate Castle was sacked the first time by Nightshade and the undead armies of the Tomb Kingdom in 887 TA. Escaping with his siblings to a hidden retreat in the forest, the experience dominated the formative years of this now battle-hardened warrior.
During the Second War of the Reaches, when Zachary was in his twenties, Crossgate Castle fell three more times (900 TA, 903 TA and 906 TA) to forces that included a large contingency of undead. Driven by an overwhelming desire to protect his family and people, Zachary is obsessed with gathering knowledge of the undead.
An accomplished horseman, archer and melee fighter, Zachary makes regular trips to the Sands of Time to search for more clues about the origins of the Tomb Kingdom and to watch for signs of its revival. He is known as the foremost desert fighter alive today. It is rumored that Crossgate Castle has a secret library of books and artifacts from the Tomb Kingdom. Many believe that Zachary may yet discover the origin of the Tomb Kingdom.
While his father, Arthur, the Baron Emeritus, lives at the family estate in Teufeldorf, Zachary rarely ventures to the city-state. Arthur runs many of the business affairs of the family, although it is said that his mind is failing and he suffers from near-constant nightmares of the war years.
Zachary is well-liked by his subjects and his devotion is unwavering. His intensity has, however, led to a lonely life without spouse or children. The large Overton clan is well established in the Western Reaches even without an heir from Zachary.