King of Clubs
Jump to navigation
Jump to search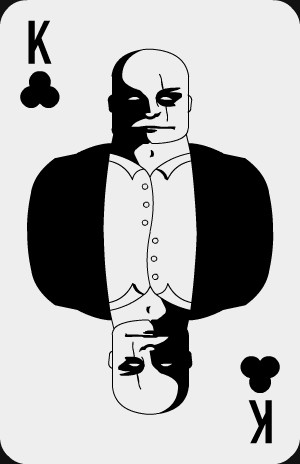 Established in 1798, the King of Clubs is a small, exclusive club dedicated to all matters pertaining to books, exploration, science and literature - a gathering place of brilliant minds and unique talents. Originally meeting monthly at the Crown and Anchor, Arundel Street in the Strand, the club was immensely popular until its sudden closure on October 31, 1834 - two weeks after the burning of the Palace of Westminster.
Of its membership, only those in its inner circle, affectionately called "the cabal", knew the reason for the club's closure - its secret investigation into what really happened at Westminster and the recent spree of crime and madness sweeping London. For the protection of the King of Clubs members and under the cloak of secrecy, the cabal moved its headquarters to the lavish, labyrinthine townhome of Alexander Baring, 1st Baron Ashburton, a long-time member of the club. An avid collector of antiquities, books, and artifacts - an obsession started during his first business posting in Massachusetts - the mansion provides privacy for study and experimentation.
Upon Baring's death, the King of Clubs took ownership of the building. Today, it's members are the foremost experts in hidden knowledge and occult lore in London. The Baring House - with the baron's vast library of 40,000 volumes and innumerable artifacts - remains one of the best kept secrets in the Empire. A modest, adjacent tavern, the World's End Pub, provides a front for members to enter and leave the building.
Members of the King of Clubs cabal are oftentimes called in for unusual investigations and unsolvable mysteries. Available King of Clubs adventurers are:
Military
Lieutenant Commander James 'Hannibal' Scarlett, Royal Navy Tactician
Colonel William Deasy, Marksman (Rifle)
Major John Playfair, Markman (Pistol)
Master Sergeant James Mika, Brawler
Spider, Martial Artist
Sebastiani, Master Fencer
Academic
Honorable William Drummond, Retired Judge and Violinist
Vicar Lester Moore, Clergyman
Professor Georgina Rukhs, Archaeologist
Miss Sarah, Mindreader
Professor Simon St. John-Smythe, Antiquarian
Dame Susan Vencore, Parapsychologist
Professionals
Robert Ashton Clark, Explorer
Doctor Matthew Marlybones, Medical Doctor
Doctor Clive James, Psychotherapist
Elizabeth 'Raven' Ravenswood, Cultural Attache and Screwman
Alfred 'Goth' Robie, Banker and Cracksmith
Daphne Street, Consulting Detective
Malinda Ann Judson Richards, Nurse
The Irregulars
Independent geniuses, stalwart adventurers, and rogue military experts - and sometimes those on the grey edge of the law and sanity - the Irregulars possess specialized skills needed by the King of Clubs cabal. While not members with access to the vast resources of Baring House, the Irregulars - as they are called - find themselves drawn into the clandestine adventures of their cohorts on a regular basis. It is well established that King of Clubs success often hinges on the exotic skills of these men and women. Available Irregular adventurers are:
Jack Bell, Inventor
Angus 'Blackbeard' Campbell, Journalist
Morgan 'Spook' James, Author and Gambler
Helena Ladislav, Adventuress
Miss Evangeline Rose Lowe, Aeronaut
Corporal James 'Shadow' Wyatt, Sniper
If you want a single PDF file with all the King of Clubs and Irregular Characters in PDF format, drop me an email. Printed copies will be provided on game night, so there is no need to print your own character sheet unless you want to.

Equipment - The Cloak Room includes a weapons room, several workshops, a dark room, and small stable allowing adventurers to properly equip themselves fully before leaving on a mission.
Staff - The Baring House Staff includes only the finest and most discreet help for a well-run estate - from maids to librarians.
Contacts - The Cobweb is an extensive network of contacts and confidants in London, England and the Continent - essential to the operation of the King of Clubs. These men and women can be trusted to help with all matters of inquiry and action - from the mundane to the grey areas of the law.