Matcon
Jump to navigation
Jump to search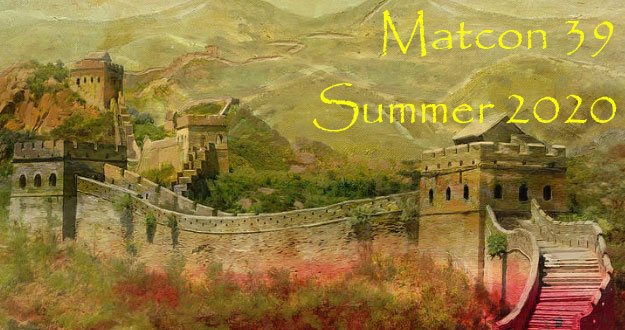 Matcon 39
Summer 2020
The Overlord is in trouble!
The Palace is overrun by thieves stealing the treasures of the Old Kingdom. The Masquerade, once the culmination of the social calendar, has been marred by unexplained events. What twisting plots are afoot? Worse, the Kingdom generals report defeats in both the north and south as plans to entrap the Reaches forces fails miserably. The coffers are running dangerously low. And now the Elven Ambassador is preaching the coming of a new menace from the seas.
It is time for swift and sure action: a final solution to the problem of the Three Kings. Sharpen your swords and dust off your spellbooks - it's Matcon time again.
Schedule of Events
Travel, Room and Board

Dungeons & Dragons: Plundering the Overlord's Palace
The Overlord's Masquerade is still in full swing. Elegant and elaborate costumed dancers - the lords and ladies of the ball - float about the Throne Room. Some are blissfully unaware of what is happening in the Palace. Others cast suspicious glances at the powerful figures gathered in the magnificent room.
At the far end, Queen Jocelyne conducts an auction of royal treasures while her husband, the Overlord Theodrick XIX, huddles with advisers and palace guards in an attempt to determine what games and treachery are in play. The coffers must be refilled, and these treasures will bring a notable boost to the war effort. More troubling is the strange events unfolding in the Palace - guards slain, a portal to unknown chambers opened, a trusted adviser implicated in a bizarre theft of a chess piece. The night is now chaos.
From the shadows, the wizened woman watches. Maria's gypsy séance helped the Reaches strangers recover Alfric's Dagger, an artifact long used to ostracize her people. Soon, it's true nature will be revealed - vindication after almost 3000 years. Maria smiles. Even with her part played, she knows more adventures will unfold before the night is over.
Matcon 39 Puzzle
Adventurer's Logbook
Characters

Other Diversions
While D&D has always been the focus of Matcon, a number of diversions have been created over the years. These have been thoughtfully blended into the campaign: Witenagemot and Warmaster providing a large-scale focus on the campaigns of kingdoms and generals; Ranger Magic providing special one-time spells for characters; and even Dwarf Poker providing a way for dwarves to lose their warchests to the forces of evil. Matcon will continue to evolve over time providing new challenges from the twisted mind of CM the DM.
Dwarf Poker
Witenagemot
Ranger Magic
Golf

Tales of Matcons Past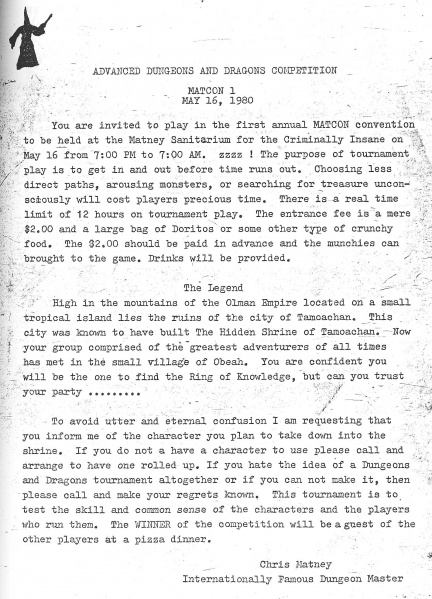 Matcon has been taking place since 1980. From our annual gathering many, many tales of adventures and misadventures have followed. The richness of the campaign is not just in the complexity and depth of the story, but in the interaction between characters and players. Some of those memories are presented below.
Past Matcon Winners (1980-present)
Matcon 36 Photos (2017)
Matcon 29 Photos (2010)
Matcon 28 Picturebook (2009)
Starter Dungeon (2009)
Realm Risk (2007-2010)
Matcon 25 Photos (2006)
Ode To A Celestial Pegasus Lost (2006)
Celestial Pegasus (2005)
Warmaster (2000-2005)
Matcon 24 Photos (2005)
Matcon 24 Fun (2005)
Matcon 23 Photos (2004)
Matcon 22 Photos (2003)
Matcon 22 Fun (2003)
Grim's Last Stand MTG Variant (2003)
Matcon 21 Photos (2002)
Matcon 20 Photos (2001)
Matcon 20 Cover (2001)
Acorn of Channeling (2000)
Matcon 19 Fun (2000)
Matcon 17 Fun (1998)
Clubs of DM Control (date unknown)
Matcon 15 Fun (1996)
The Pool (1995)
Four Brothers Invite (1994)
Matcon 13 Invite (1994)
Champion's Chalice (1993)
Falstaff's Fabulous Fantasy System (1993)
Matcon 12 Photos (1993)
Matcon 12 Invite (1993)
Christmas 1992 Invite (1992)
Matcon 11 Victor (1992)
Matcon 11 Invite (1992)
Is U-Gene More Massive Than Ernie? (1991)
Matcon 10 Invite (1991)
Adventurer's Ale (1991)
The World's End Pub (date unknown)
The Willows (1991)
Matcon 9 Victor (1990)
Matcon 9 Invite (1990)
Why You Don't Do A Draft Via Mail (1990)
A Yuletide Tale (1989)
Why You Always Break the Code (1989)
An Audacious Wager (1989)
Matcon 8 Victor (1989)
Matcon 8 Invite (1989)
Falstaff Has A Bad Dream (1988)
Matcon 7 Wrapup (1988)
Matcon 7 Invite (1988)
Famous Quotes (1988)
Matcon 6 Victor (1987)
Matcon 6 Invite (1987)
Rock-Dwelling Predators (1987)
Champion's Quest 1 Results (1986)
Matcon 5 Invite (1986)
Hylax Sheds Many Tears (1986)
Falstaff Is Dead (1986)
Introduction to Fuzzwort the Cleric (1986)
Journey to Lost Pine Woods (1986)
Sound Mind, Body, and Buttplate (1985)
Champion's Quest 1 Invite (1985)
The Mighty Kansy (1985)
The Matcon 4 Storyboard (1985)
Matcon 4 Invite (1985)
Hylax Binds the Demons - Second Anniversary (1985)
Absorption Calculation (date unknown)
Vince's Vabulous Vindentification System (date unknown)
A System of Magical Research (1985)
The Draft (1984-present)
The Night Before Matcon (1984)
Matcon 3 Fun (1984)
Matcon 3 Invite (1984)
Hylax the Storyteller (date unknown)
The Ballad of Hylax (Our Journey to Mt. Todd) (1983)
Zephaniah's Tour Guide to Hell (1983)
An Introduction to the New Party (1982)
The Misadventures of CM the DM (Part 3) (1981)
Parties of the Third Age (1981)
Matcon 1 Results (1980)
Matcon 1 Invite (1980)
How It All Got Started (1980)
The Life of Brian (1979)
Who Came First, Arthur Bucheroni or Sir Brian du Bois (1979)