The Royal Train
Jump to navigation
Jump to search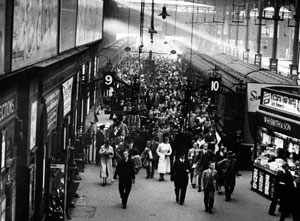 28 October 1892
Reported by Col. William Deasy
I must admit that although I have read the description of the recently-renovated Royal Train, it is a marvel of opulence. The polished locomotive and carriages are painted in the royal blue with gold trim. The interior of the Royal Train is magnificent – polished teak double doors, paneling of finished "fiddle-back" mahogany, armchairs covered in apple-green morocco leather. Even the cornice moulding is carved with an oak leaf design and gilded. The door-handles and long commode-handles are gold-plated with a lion's mask design. On the lower panels are the royal coat-of-arms and the arms of the various orders of chivalry—St. George, the Garter, St. Andrew, St. Patrick and the like—each being hand-painted. Magnificent!
There are eight cars including the engine: a corridor break coach – where our party is housed; a first-class coach for the Royal staff; the wonderful Prince of Wales Saloon for young Arthur and his comrade Robgoblin; the Royal dining car; the staff car, and a caboose with storage – currently filled with hunting dogs, pigs, etc.
I provide a list of the passengers with notes gathered during our adventure as a matter of providing some context for my narrative which follows.
First Class Carriage
Henry Bridlesman, Master of the Hunt – Henry is a short, thin, middle aged man with wispy brown hair. He is always dressed impeccably and is somewhat fussy.
Horace Beedle, Huntsman – Horace is ruggedly beautiful with long blond hair, blue eyes, white teeth, well-muscled and a complexion darkened by many days outdoors.
Eliza Curry, Mystic – Young, reddish-blonde and beautiful with a fair complexion and large, doe-like green eyes. She is slight of build - very demure and soft spoken, always deferring to Phoebe. She is rumored to have visions of the future in her dreams.
Phoebe Gooding, Mystic –Young, raven hair with dark skin and large brown eyes. She is also slightly built, although tending towards more revealing clothing than Eliza. She has a fiery temperament – especially to those who don't believe. She is the interpreter of other's dreams.
Emily Sale, Nanny – Young, dark hair with a very pale complexion. She is nicely rounded with a quick laugh and a quick temper. She is completely devoted to Arthur and somewhat spoiling of the child. She apparently thinks Robgoblin is odd.
Lucy Longworth, Housekeeper – Middle-aged with blonde hair and blue eyes. She is a very pleasant looking woman, although painfully shy and reclusive. Later I learned she is very fond of Henry the Master of the Hunt and thinks his dashing and romantic.
Professor Cyrus Borden, Tutor – Late 30's – very thin, somewhat hunched look of a scholar with brown hair and eyes. He was a lecturer in the Classics at Leeds University before being dismissed for having an affair with a student. He is apparently a researcher in lost cities.
Buford Grattan, Valet – Early 60's – thin, tall and extremely quiet. Black hair and hazel eyes with a large beak-like nose and the stare of a bird of prey. He has been with the family for years and is completely loyal to the senior Prince who asked him to make sure nothing happened to the boys.
Royal Saloon
Young Prince Arthur – blonde haired, blue eyes, 9-year old precocious boy. He is always sneaking off on adventures to hunt the faerie folk. He is respectful and overtly enthusiastic about anything adventurous in the least. He talks with a slight lisp.
Rob-goblin (Robin Burton) – dark haired, black eyes, 11-year old boy. He is very thin and has a sickly pallor about him. He is quiet and follows in Arthur's footsteps – although he often is the instigator of trouble when the boys are alone.
Staff Carriage
Kathleen O'Connor, Train Cook – elderly, thin with grey hair and sunken green eyes. She is hardworking and completely consumed with trying to keep the kitchen running for the Royals.
Leah Moody, Telegraphist – young slightly plump woman with a very conservative dress, warm brown eyes and an engaging smile. Leah is smart and always has her nose buried in a penny dreadful. She has engineering experience and is always happy to help.
Bradford Booth, Engineer – Middle aged man with a ruddy complexion and a nose crossed with spider veins. He is dark haired with streaks of grey and thickly muscled. He is very quiet and efficient.
Matthew Moldive, Mechanic – Young man with long stringy brown hair. He has terrible skin and his teeth are already starting to blacken. He likes to smoke.
Chester Dalton, Conductor – Middle aged man with a thin, wiry body – tall and always dressed in a clean suit. He is commanding with those who work for him and respectful of those above him. Runs a tight ship. Ex-military Lt. with service in India.
Samuel Drudge, Rear Brakeman – Young man with dark close-cropped hair. He is missing his front teeth from a barfight. He is short, wiry and athletically built.